Saskatchewan Artist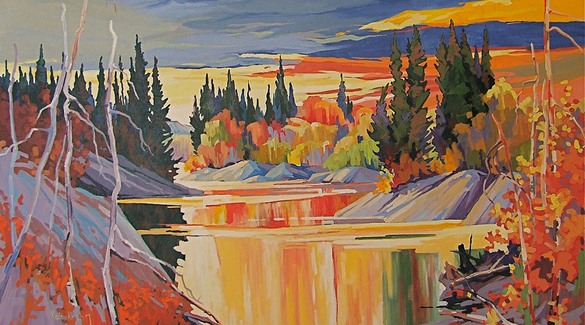 Narrow Passage - 2009 - by Rolf Krohn
Rolf Krohn
Rolf Krohn was born in 1939 in Consort, Alberta. He studied at the Alberta College of Art and Design (then the Alberta Provincial Institute of Technology and Art) in the late 1950s. After coming to Saskatoon, Saskatchewan, Krohn spent 20 years as an instructor with Saskatoon Bridge City Painters. He has also led painting workshops and given lectures in both Alberta and Saskatchewan, and continues to act as a mentor for other artists.

Krohn's work in watercolour, acrylic, and oil features a variety of subject matter, including the human figure, portraits, wildlife, and Saskatchewan's northern landscape. Drawn to colour and shape, Krohn enjoys experimentation in his work. He has exhibited in solo and group shows including, in 2010 and 2011, at the Canadian Federation of Artists' Juried Art Show in Vancouver, British Columbia.

Krohn is a member of the Canadian Society of Painters of Watercolour and the Canadian Institute of Portrait Artists.

Rolf Krohn works full-time as an artist and lives in Saskatoon, Saskatchewan.
Rolf Krohn
Born:

1939.

Resides:

Saskatoon, SK

Mediums:

Acrylic, Oil Painting, Watercolour
Connect With Us