Saskatchewan Artist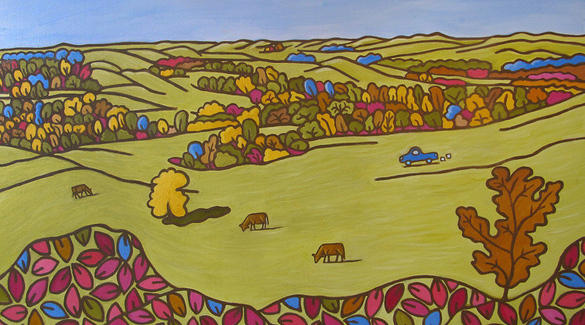 Cobalt Autumn - 2012 - by Sandra Knoss
Sandra Knoss
Sandra Knoss was born in 1962 in Glentworth, Saskatchewan and raised on a farm in the area. She studied in the Fine Arts program at the University of Saskatchewan in Saskatoon (1980-1982) and has participated in painting workshops at Emma Lake (2003, 2004).

Knoss's paintings in oil and encaustics depict Saskatchewan landscapes, animals, and floral life. Knoss has also done abstract work, particularly in encaustics. Beginning in 2008, Knoss started a series of paintings of the Grasslands National Park East Block near Killdeer, Saskatchewan.

Knoss has exhibited in numerous solo and group exhibitions in Saskatchewan and Ontario. Recently, her work has been part of the Dunlop Art Gallery's traveling "Mind the Gap" exhibition, showcasing the work of a variety of prairie artists (2009-2012).

Sandra Knoss lives on a farm near Rockglen, Saskatchewan.