Saskatchewan Artist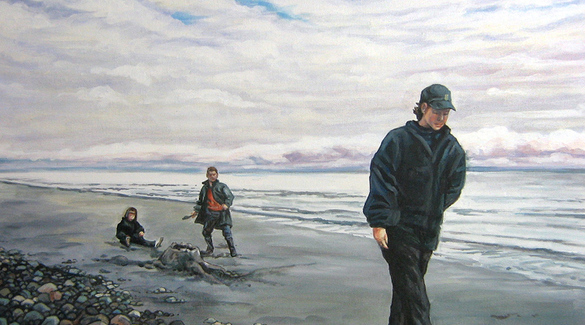 When They Were Young - 2012 - by Nikki Jacquin
Nikki Jacquin
Nikki Jacquin was born in Regina, Saskatchewan in 1967. She has been painting and sketching portraits since the age of sixteen. In 1989, Jacquin began working as a commissioned portrait artist part-time, turning to this work full-time in 1995.

Jacquin has painted in oils, acrylics, and watercolours in addition to her printmaking (lino cuts) and drawing work. Her portrait subjects include a variety of individuals and groups, frequently in a "situational" setting depicting interaction between subjects or between the subject and his or her environment. Jacquin has a special enthusiasm for painting children, writing, "The honesty and immediacy of children make them excellent subjects. Children are drawn into the experience of their surroundings. They focus on 'now' and 'the fullness of now.'"

Jacquin's work has been exhibited in group and solo shows in various Saskatchewan galleries; particularly notable is her 1999 solo show at Assiniboia Gallery (Regina). In addition to her private clients from across western Canada, Jacquin has had work purchased by the City of Regina and collectors throughout North American and in Europe.

In addition to her own practice, Jacquin leads workshops on drawing and watercolour and acrylic painting. She has served as president of the Regina North Artists' Guild and is a member of CARFAC and the Art Gallery of Regina. In 2012, she received a Guest Artist Residency position in Cypress Hills, Saskatchewan.

Nikki Jacquin lives in Regina, Saskatchewan, where she operates Nikki's Portraits of Childhood.
Nikki Jacquin
Born:

1967. Regina, SK

Resides:

Regina, SK

Mediums:

Acrylic, Drawing, Oil Painting, Printmaking, Watercolour

Website: www.nikkisportraits.com
Connect With Us