Saskatchewan Artist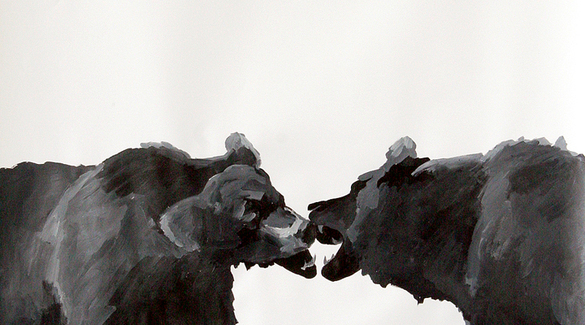 Bears - 2006 - by Belinda Harrow
Belinda Harrow
Belinda Harrow was born in 1971 in Christchurch, New Zealand, but came to Saskatchewan with her family at the age of three. She received a Bachelor of Arts in English from the University of Saskatchewan in Saskatoon in 1993, and began her art studies at the Nova Scotia College of Art & Design, where she completed a Bachelor of Fine Arts in 1996. Harrow went on to earn a Master of Fine Arts from Canterbury University in Christchurch, New Zealand (2005). She has taught at the Design and Art College of New Zealand (2005-2009) and has served as guest lecturer at Tshinghua University School of Art & Design (Beijing, China, 2007) and at the National Institute of Design (Ahmedabad, India, 2009).
Harrow has worked in a variety of mediums, including painting, installations, sculpture, printmaking, drawing, and fabric. Her work has been exhibited in group and solo exhibitions in Canada, New Zealand, the UK, China, and Thailand. Recently, her work has been the subject of solo shows in Whitehorse (2011) and Dawson City, Yukon (2012). Her work is part of the Yukon Government's permanent collection.

Harrow has received numerous awards and grants, and in 2000 Harrow represented Canada as the Royal Overseas Travel Scholarship recipient. Harrow has completed artist residencies in Scotland as well as in Canada, including in Whitehorse (2009) and Inuvik, NWT (2010). She is a member of CARFAC.

Belinda Harrow lives and works in Regina, Saskatchewan.
Belinda Harrow
Born:

1971. Christchurch, Canterbury NZ

Resides:

Regina, SK

Mediums:

Acrylic, Drawing, Installations, Printmaking, Sculpture, Textiles

Website: http://belindaharrow.com/
Connect With Us