Saskatchewan Artist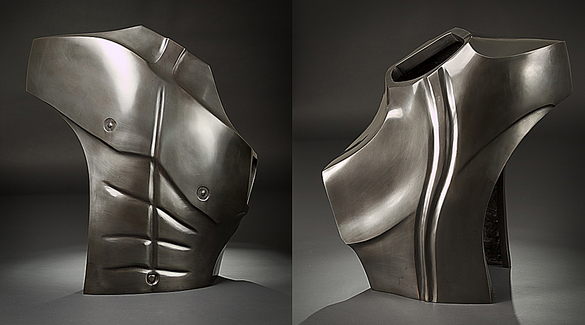 Male Torso as Armour - 2004 - by Morley Myers
Morley Myers
Morley Myers was born in 1956 in Saskatoon, Saskatchewan and grew up in the Medicine Hat, Alberta area. A carpenter by trade, Myers is a self-taught sculptor, working in stone, steel, bronze, plaster, and wood.
Passionate about his work, Myers finds sculpting to be a spiritual activity, and some of his works themselves have spiritual themes. Writer Kevin Steinke describes Myers' process: "When creating a sculpture from a raw block of stone, Myers often starts with the fault line, the unruly fracture, or some other perceived defect, not in order to make a correction, but rather to initiate a process of discovery...a hidden three-dimensional poetry is, in the end, revealed."
Myers' work has been exhibited in western Canada and in New York since the early 1990s.
Myers lives in Salt Spring Island, British Columbia. He is a member of several arts organizations, including the West Coast Sculptors' Association and the International Sculpture Centre ISC.
Note - photography is by David Borrowman