Saskatchewan Artist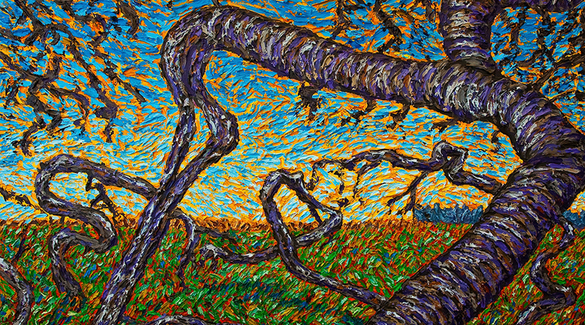 Failed Sacrifices - 2009 - by Ken Dalgarno
Ken Dalgarno
Ken Dalgarno was born in Moose Jaw, Saskatchewan, in 1963. Having graduated from the University of Saskatchewan (Saskatoon) with a Bachelor of Arts in English in 1986, Dalgarno is a self-taught artist, working mostly in photography and acrylic painting.
Recently, Dalgarno devoted two years to exploring — in photographs and paintings — the Crooked Trees of Alticane, which he described in a 2010 interview with the Edmonton Journal as "a small grove of trembling aspen northwest of Saskatoon that have mutated, so much so that they twist and contort at incredible angles much like an enchanted forest...They are a botanical phenomenon."
Dalgarno has exhibited in group and solo shows across Western Canada, including his Crooked Trees exhibition of thirteen paintings and ten photographs which toured to eight cities in Western Canada, Montana and South Dakota from 2009 through 2011.
Dalgarno has received support from the Saskatchewan Arts Board and the Canada Council for the Arts, and is an active member of the visual arts scene in Saskatchewan, involved with such groups as the Moose Jaw Museum and Art Galley and CARFAC.
His work can be found in the permanent collections of Saskatchewan Arts Board, North Dakota State University, University of Nebraska, Estevan Museum and Art Gallery, and City of Weyburn.
Ken Dalgarno lives in Moose Jaw, Saskatchewan.