Saskatchewan Artist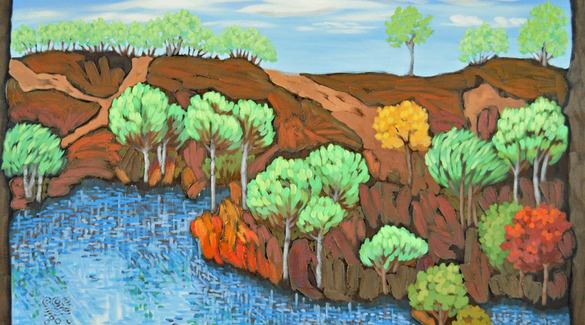 Signs of Spring - 2012 - by Sharron Labatt
Sharron Labatt
Sharron Labatt was born in 1947 in Regina, Saskatchewan, and grew up there. She graduated in 1994 with a BFA from the University of Regina, having studied with such notable artists as Ted Godwin, Leesa Streifler, Jack Cowin and Clint Hunker.
Living at Echo Lake, Saskatchewan, near Fort Qu'Appelle where she has a studio, Labatt works mostly in oil and acrylic on canvas. Although paintings are often completed indoors, the works begin from on-location sketches and still lifes set up in her studio. Labatt has also created a number of public murals, including for the Royal Canadian Legion (Fort Qu'Appelle), Pharmasave (Fort Qu'Appelle) and Fort Qu'Appelle Elementary School.
Labatt has had solo exhibitions at Cumberland Gallery (Regina. 2009), Chapel Gallery (North Battleford, 2006), Joe Moran Gallery (Regina, 2005) and several in Fort Qu'Appelle. Her work can be found in the permanent collections of Sask Power, Government of Saskatchewan, SGI and Ducks Unlimited.
Sharron Labatt continues to live at Echo Lake, Saskatchewan, and work from her studio in Fort Qu'Appelle.