Saskatchewan Artist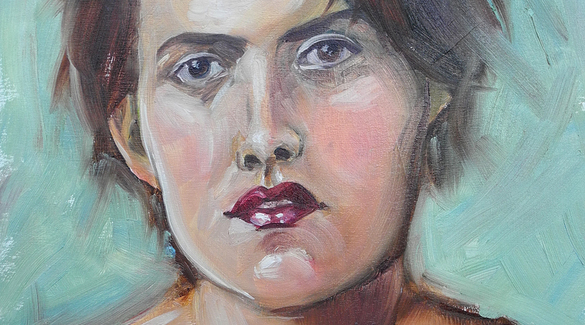 Self Portrait - Inspired by Malcolm Liepke - 2012 - by Bronwyn Schuster
Bronwyn Schuster
Bronwyn Schuster was born in Banff, Alberta, in 1992, and grew up in Calgary. She moved to the town of Eastend, Saskatchewan in 2007, and has become very involved in the thriving arts community there.

Schuster is a self-taught artist, much influenced by her mother, artist Trea Jensen. She works in several mediums, including oils, acrylics, watercolours, ink and fibre arts, and is exploring several different styles of art, from illustration to surrealism to classicism. Her work often involves narrative elements and humour.

For such a young artist, Schuster has been making art seriously for many years. She has been involved in several group shows with The Hive Artist Hub (Medicine Hat, AB), Market Collective (Calgary) and the Artisans Guild of Eastend and Surrounding Areas.

She has also attended residencies in Medicine Hat (2011) and Coaticook, Quebec (2013). In fact Schuster currently has an active fundraising campaign for her Coaticook residency: www.indiegogo.com/projects/send-bronwyn-to-quebec

Bronwyn Schuster is a member of AGES (Artisans Guild of Eastend and Surrounding areas), and has been named NAC Artist of the Month, and several of her artworks are available for purchase through the NACmarket.