Saskatchewan Artist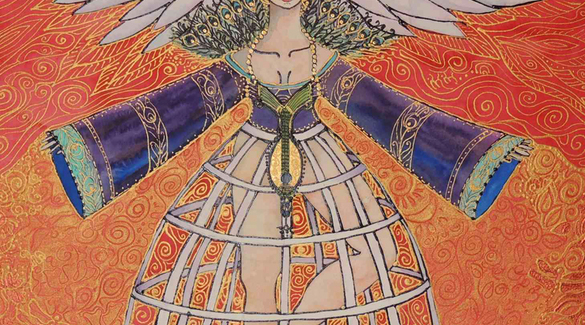 Saraswati the Swan Princess - 2012 - by Trea Jensen
Trea Jensen
Trea Jensen was born in 1964 in Calgary, Alberta, and has also lived on Denman Island and Hornby Island in British Columbia, as well as in the Canmore/Banff area. Jensen has lived in Eastend, Saskatchewan since 2007.

A self-taught artist, Jensen's work in watercolour and acrylics reflects her interest in nature, spirituality, and folklore. Her paintings are colourful, frequently whimsical, and incorporate symbolism inspired by goddess narratives, Aboriginal art, and dreams. Jensen writes: "I incorporate magic, medicine, and folklore from images in Nature to explore and understand the depth of women's physical, emotional and spiritual layers."

Active in her local community, in 2008 Jensen founded AGES (Artisans Guild of Eastend and Surrounding Areas), with an ongoing exhibition space in the Eastend Regional Library. Jensen also teaches a variety of local art classes to people of all ages.

Jensen's daughter, Bronwyn Schuster, is also an artist.

Trea Jensen lives and works in Eastend, Saskatchewan.