Saskatchewan Artist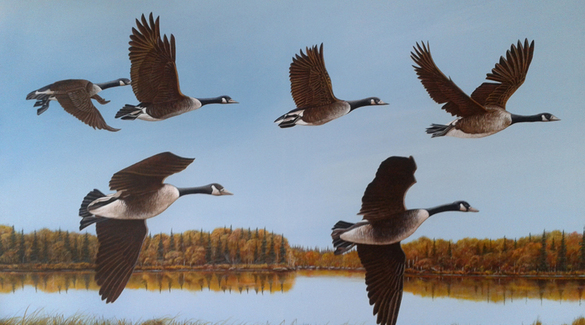 Th Migration Home - 2012 - by Earl McKay
Earl McKay
Earl McKay was born in Cumberland House, Saskatchewan in 1955. McKay has been drawing and painting since his childhood days of recreating images of the superheroes in his comic books. He took formal art training in Brandon, Manitoba after moving there in 1976. He then moved his family to the northern Manitoba community of Thompson.
McKay's work frequently features lakes, forests, and other nature scenes, as well as wildlife, including birds and wolves. In 2006, he designed and painted five wolf statues for a city project in Thompson, Manitoba. His work has been exhibited throughout Canada, including in Winnipeg, Montreal, Toronto, Calgary, and Vancouver, and is part of collections in Australia, France, Germany, Holland, Switzerland, South Africa, Jamaica, and Brazil. Private collectors include David Suzuki, Lynn Redgrave, and Hank Williams, Jr.
McKay returned to Saskatchewan in 2011, and today resides in Prince Albert.
Earl McKay
Born:

1955.

Resides:

Prince Albert, SK

Mediums:

Acrylic
Connect With Us