Saskatchewan Artist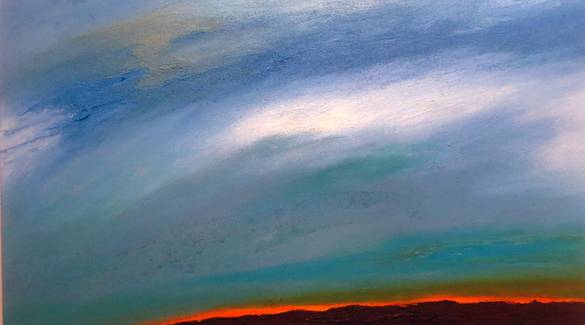 A Light to Shine - 2013 - by Tim Fisher
Tim Fisher
Tim Fisher was born in 1966 in Watrous, Saskatchewan. He studied printmaking at the University of Saskatchewan, receiving his Bachelor of Fine Arts in 1989. He went on to complete a Bachelor of Education at the same institution in 1993.
In each of Fisher's mediums — acrylic paintings on canvas, board, and paper, prints, and photographs — wide horizons and skies figure prominently, as Fisher explores the colour and texture of cloud formations. He explains: "Over the years I had tried to paint the landscape, but was never satisfied with the results. It wasn't until turning my focus and energy skyward that I was able to achieve a personal satisfaction in the work I was producing....My hope is that after viewing my paintings you are left with a feeling of remembrance to a time and place where the sky was significant to you."
Fisher's work has been exhibited in several solo and group exhibitions in Canada and the United States. In 1989-1991, he was part of the Saskatchewan Arts Council's Touring Program, and in 2007, Fisher had a solo show at Alvear Studio/Gallery in Washington, D.C. Fisher was a runner-up in the 1991 Saskatchewan Prairieland Exhibition Open Arts Competition. His work can be found in the collection of the Saskatchewan Property Management Corporation as well as numerous other private collections.
Tim Fisher lives in Saskatoon, Saskatchewan.