Saskatchewan Artist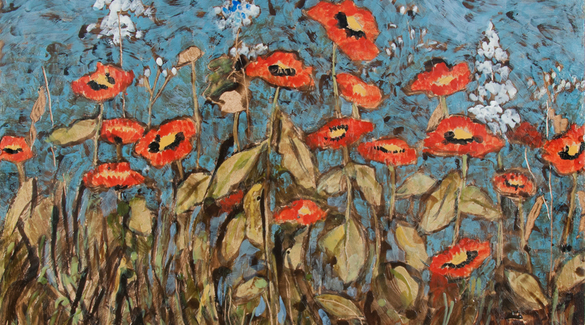 Poppies - 2011 - by Eve Barbeau
Eve Barbeau
Eve Barbeau (formerly Eve Kotyk) was born in 1950 in Warman, Saskatchewan. She studied at the University of Saskatchewan, (Saskatoon) where she received the Heinz Jordan Award for proficiency in drawing and painting, graduating with a Bachelor of Fine Arts in 1988. Her instructors there included Otto Rogers and Robert Christie.
Since 1989, Barbeau has worked in art galleries in and around Saskatoon in various capacities including as gallery assistant at Art Placement Gallery, and for ten years, ending in 2010, as collections manager for the Mendel Art Gallery.
Of her interest in art at a young age, Barbeau has said, "When I was child I drew the standard three year old child's representation of a face and proudly showed it to my aunt. A curious thing happened. My aunt understood what I had drawn. This was my first intimation that images communicate."
Today, while Barbeau works in various mediums including watercolour, oil, acrylic, collage and wood, she primarily works in encaustic on panel. Inspired by Impressionist painting, she continues to explore the petite tache — a hallmark of Impressionism — in both her representational and abstract works.
Barbeau's work has been featured in many Saskatchewan exhibitions, including at the McIntyre Gallery (Regina), Art Placement Gallery, Frances Morrison Library Gallery and St. Thomas Moore Gallery, and has appeared in publications including the Herstory Calendar for 2013.
Barbeau's work can be found in many permanent collections, including Saskatchewan Arts Board, University of Saskatchewan, Sask Power and SGI.
Eve Barbeau currently lives in Saskatoon, Saskatchewan.
Eve Barbeau was named the September 2015 NAC Artist of the Month, with several examples of her work available for purchase through our NACmarket.
Eve Barbeau
Born:

1950.

Resides:

Saskatoon, SK

Mediums:

Acrylic, Collage, Encaustic, Oil Painting

Website: https://evebarbeau.ca/
Connect With Us