Saskatchewan Artist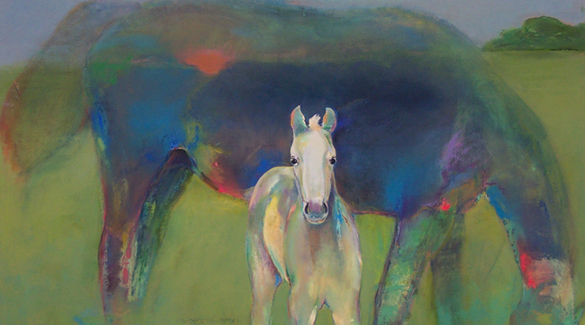 Overseeing - 2012 - by Gale Hagblom
Gale L. Hagblom
Gale L. Hagblom was born in Saskatoon, Saskatchewan in 1957. Hagblom studied at the University of Saskatchewan (Saskatoon) and the Banff Centre for the Arts, and in 2007 received her Bachelor of Fine Arts degree from the Nova Scotia College of Arts Design University (NSCAD).
Since 1993, she has held various jobs including as a public relations manager and communications coordinator. She is currently the communication and publication coordinator for the Saskatchewan Craft Council (SCC) where, among other things, she designs and edits SCC materials including their monthly newsletter, catalogues and promotional material. She is at the same time pursuing a Masters Degree in Geography and Planning at the University of Saskatchewan.
With her background as a graphic designer, Hagblom's art focuses on line, shape and colour as well as the resultant meaning these combined or individual elements may communicate. Her paintings reflect her fascination for nature. "Nature is spontaneous," she says, "We can only interpret that spontaneity because art is a celebration of nature."
Hagblom works mainly in oils and acrylics, and has been exhibited widely in Saskatchewan. Most recently, her work was part of the Sextet Plus One Exhibition, in Saskatoon.
Hagblom is a member of CARFAC Saskatchewan, the Art Gallery of Nova Scotia, Graphic Designer's Guild of Canada, and the Editor's Association of Canada.
Hagblom currently lives in Saskatoon, Saskatchewan.
Gale L. Hagblom
Born:

1957. Saskatoon, SK

Resides:

Saskatoon, SK

Mediums:

Acrylic, Oil Painting

Website: www.galehagblom.com
Connect With Us