Saskatchewan Artist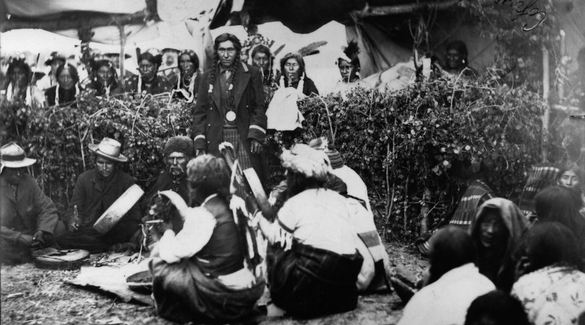 Interior of Sun Dance tent showing participants and dummers - by Geraldine Moodie
Geraldine Moodie
Geraldine Moodie (née Fitzgibbon) was born in 1854 in Toronto Ontario. In 1878 she married John Douglas Moodie and in 1880 they moved to western Canada to farm. However, farming turned out to be an unsuccessful venture for the couple, and in 1885 John Moodie received a commission with the North West Mounted Police (NWMP) which led the couple to travel for 32 years throughout Western Canada, the Arctic and the Hudson's Bay district.

For Geraldine Moodie, this led to a career in photography: when John Douglas Moodie was dissatisfied with the photography of his male Lieutenant, he recommended Geraldine and she excelled at the task, being commissioned in 1895 by the Prime Minister to created photographic records. Moodie's images capture some of the most significant historical records of western Canada during this time. In the 1890's she extensively photographed the Cree who resided near North Battle Ford, Saskatchewan, working with a surprising sensitivity for the time, especially when her subjects were women or children. Over the next twenty years Moodie accompanied her husband on several expeditions in the Arctic and the Hudson's Bay area, traveling with her photography gear by train, wagon, boat and dogsled.

During this time the Moodies lived intermittently in Battleford, Maple Creek and Regina (all Saskatchewan) and Medicine Hat, Alberta, and Geraldine set up several photography studios in these cities.

Moodie's photography was in many ways forgotten until Donald White, director of the Medicine Hat Museum and Art Gallery, uncovered some of her pictures. The images led White on a 17 year search that stretched across Canada, the United States and Great Britain, where he was able to locate and index Moodie's work. Her works are now accessible and on display in museums, galleries and online. The photographs are significant because they capture the disappearing lifestyle of the pre-settled Inuit, Cree nation, and nascent western ranching communities. The images also reflect of the important role that not only Geraldine Moodie played in capturing the history of the west, but also the important role that women have played in shaping Canadian history.
Geraldine Moodie
Born:

1854. Toronto, ON

Died:

1945.

Mediums:

Photography
Connect With Us