Saskatchewan Artist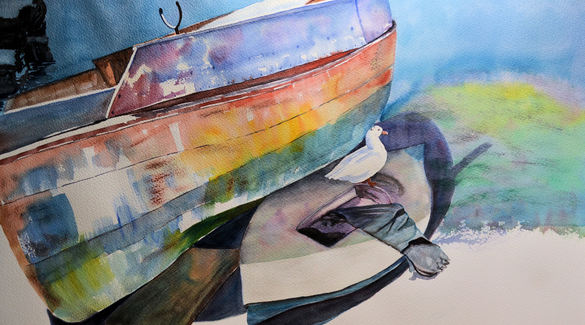 Seeking Shade - 2013 - by Bonnie McBride
Bonnie McBride
Bonnie McBride was born in Avonlea, Saskatchewan, in 1953. Mostly a self-taught artist, McBride has been devoted to painting ever since she took her first watercolour painting class in 2003. In recent years, McBride has taken workshops from renowned artists such as Zhong-Yan Haung, Elaine Seis, Val Moker, Michael Lonechild and Grant Fuller.

While she mainly works in ink and watercolour, McBride also uses pastels, coloured pencils and acrylics. Inspired by her appreciation for nature and love of animals, McBride's subject matter includes floral still life, animals, landscapes and portraiture.

McBride's work has been shown extensively in Regina. The Art Gallery of Regina exhibited her paintings at its members' shows from 2007 to 2013. And her work was part of the Cystic Fibrosis Art Show and Auction in 2008, 2009, and 2013.

Her art has been hung in various locations in Regina including Pasqua Hospital, Regina Crossing, and Government House. Over the years, McBride has donated her art to local charities including the United Way, Regina Humane Society, Grandmothers 4 Grandmothers, and Wings on Wascana.

Bonnie McBride is a member of the Art Gallery of Regina. She currently lives in Regina.
Bonnie McBride
Born:

1953. Avonlea , SK

Resides:

Regina, SK

Mediums:

Acrylic, Watercolour
Connect With Us