Saskatchewan Artist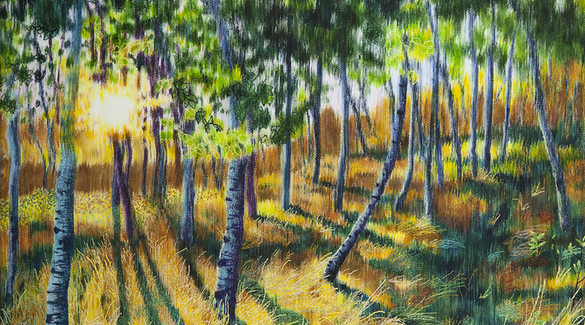 Sunset Patterns - 2009 fibre art - by Jane A. Evans
Jane A. Evans
Jane A. Evans was born in 1946 in Saint Paul, Minnesota, USA. She completed a BA in English Literature at the University of Wisconsin (Madison, 1968) and a Bachelor of Education at the University of Minnesota in Minneapolis (1969).

Evans came to Saskatchewan in 1972, taking Fine Arts classes at the University of Saskatchewan in Saskatoon in '72 and '73, and began exhibiting her fibre art widely from the mid 1970s onward.

Exhibitions have included many Saskatchewan Craft Council "Dimensions" tours and other curated shows, several Handweavers Guild of America exhibitions, and curated exhibitions such as A Show of Hands Contemporary Craft Gallery (Toronto, 1999), while Evans' solo shows have included Saskatchewan Craft Council Gallery (Saskatoon, 1995), TextileContexT Studio (Vancouver, BC, 2002) and McIntyre Gallery (Regina, 2009 and 2012).

In The Craft Factor magazine in 2002, writer Janet Collins stated, "Evans' work defies the conventional labels of craft and fibrework. A combination of painting, weaving and embroidery creates a landscape that exudes a depth rarely achieved in painted canvases."

Evans is considered a Master Weaver, has taught weaving throughout North America, and has been nominated for two of Canada's most prestigious awards in craft, the Saidye Bronfman Award for Excellence and the Jean A. Chalmers National Craft Award. Her work can be found in the permanent collections of the Saskatchewan Arts Board, Saskatchewan Craft Council, City of Regina, City of North Battleford, and numerous private and corporate collections throughout North America.

In 2012 Evans transitioned from fibre art to working in acrylic paints, while maintaining her focus on the tranquility of nature. Often these paintings include layers of collaged papers, gels and pastes, adding perceptible surfaces and textures to the pieces reminiscent of Evans' fibre landscapes.

Jane A. Evans continues to live and work in Grandora, near Saskatoon, Saskatchewan.
Jane A. Evans was named NAC Artist of the Month in March 2015, and we have an extensive interview with her, and artworks available for purchase through Saskatchewan NAC.
Jane A. Evans
Born:

1946. Saint Paul, Minnesota US

Resides:

Grandora, SK

Mediums:

Acrylic, Textiles

Website: www.janeevans.ca
Connect With Us