Saskatchewan Artist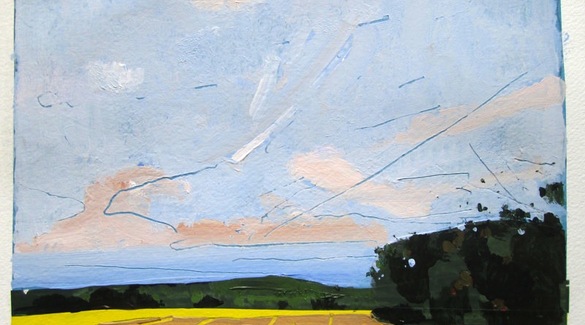 Dusk - Bean Harvest - by Harry Stooshinoff
Harry Stooshinoff
Harry Stooshinoff was born in 1956 on a farm near Kamsack, Saskatchewan.

Stooshinoff attended the Emma Lake workshop in 1977, and graduated from the University of Saskatchewan (Saskatoon) in 1979 with a BFA. He completed an MFA at the University of Calgary in 1982. He also studied at The Banff Centre (1979, 1980) and completed a B. Ed degree at the University of Toronto in 1989.

Stooshinoff tends to work in small paintings and prints, preferring to complete each work in one sitting.

Group exhibitions have included the touring "10 Young Artists from the Prairies" (1979) and Saskatchewan Open (Mendel Art Gallery, Saskatoon, 1982), and Gibson Gallery (London, Ontario, 1997), among others, while solo exhibitions have included Susan Whitney Gallery (Regina, 1987), Art Gallery of Northumberland (Cobourg, Ontario, 1990) and The Russell Gallery of Fine Art (Lindsay, Ontario, 1993), among many others.

His work can be found in the permanent collections of the Dunlop Art Gallery (Regina), City of Regina, University of Saskatchewan, Canada Council Art Bank, and many private and corporate collections.

Harry Stooshinoff taught art at Trinity College School, in Port Hope, Ontario, from 1989-2015, and continues to live and work in the Port Hope area.