Saskatchewan Artist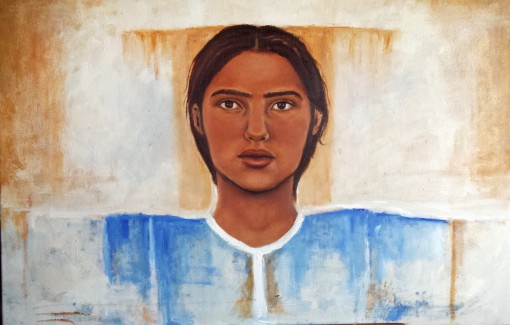 Wiya - 2014 - by Hillary Ryder
Hillary Ryder
Hillary Ryder was born in Regina, Saskatchewan in 1995 and is Assiniboine/Sioux from White Bear First Nation.

She is a self-taught artists, who began painting in 2013 at the age of seventeen.

Ryder's work has been shown at the Sakewewak Artists Collective. at Tatanka Boutique, and at Lemon Drop Salon (Regina), and was included in the 2014 Multi-Faith Visual Arts Saskatchewan touring exhibition.

Also in 2014 she was awarded an artists residency by Sakewewak Artist Collective, and placed 2nd in the 2014 Art Battle Regina.

In 2014 Ryder expanded her artistic endeavours to include fashion design, and has had her designs exhibited in Regina.

Hillary Ryder continues to live and work in Regina.
In December 2017 Hillary Ryder was a Saskatchewan NAC Featured Artist, and examples of her artwork are available for purchase through the online NACmarket.