Saskatchewan Artist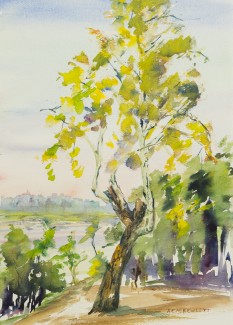 Annie Elizabeth May Hewlett
AEM Hewlett - Annie Elizabeth May Hewlett was born in Yorkshire, England in 1887, and came to Canada in 1911. She was an artists and writer, and her book A Too Short Yesterday (1970) chronicles her experiences as a newcomer to Canada and later on a farm in Saskatchewan during the 1930s.

Her paintings are contained in several private and public collections, including the permeant collection of the MacKenzie Art Gallery.

AEM Hewlett died in 1974, in Saskatchewan.
Annie Elizabeth May Hewlett
Born:

1887.

Died:

1974.

Mediums:

Watercolour
Connect With Us