Saskatchewan Artist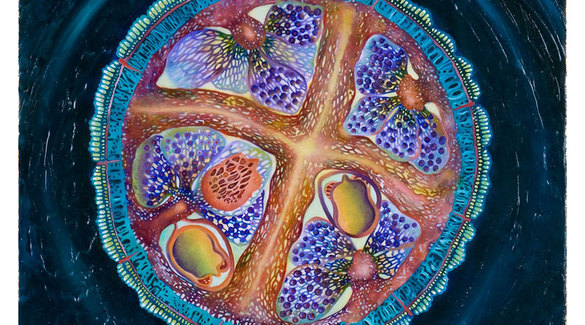 Unnumbered Germs are Seen Swelling - 2007 - by Marsha Kennedy
Marsha Kennedy
Marsha Kennedy was born in 1951 in Regina, Saskatchewan. She studied there, receiving her Bachelor of Fine Arts from the University of Regina in 1977. She then attended Toronto's York University, completing her Master of Fine Arts in 1981. Kennedy taught at Guelph University, Fanshawe College of Applied Arts and Science (London, ON) and the Art Gallery of Ontario before returning to Saskatchewan in 1991 to teach painting and drawing at the University of Regina.

Kennedy 's paintings reference connections between humanity and nature and the often destructive aspects of this relationship. Her work has been exhibited nationally in solo and group exhibitions, including the Rosemont Art Gallery (Regina, 1995), Art Gallery of Swift Current (1997), Mackenzie Art Gallery (1999), Medicine Hat Museum and Art Gallery (2001) and Vernon Art Gallery (2006). Recent solo exhibitions include "Birds, Nests, Water, Sky" (2008) and "Upon My Lap the World is at Play" (2010) both held at Regina's Mysteria Gallery.

In 2011, Kennedy was part of an "Artists by Artists" program through the Mendel Art Gallery (Saskatoon), in which she mentored sculptor Carole Epp.

In 2010 Kennedy published the limited edition art book The Rapture of Flora, which includes an essay by Jack Anderson and the poem The Metamorphosis of Plants by Goethe.

Marsha Kennedy continues to teach painting, drawing, and two-dimensional design at the University of Regina.
Marsha Kennedy
Born:

1951. Regina, SK

Resides:

Regina, SK

Mediums:

Drawing, Oil Painting

Galleries: Mata Gallery (Regina)
Connect With Us