Saskatchewan Artist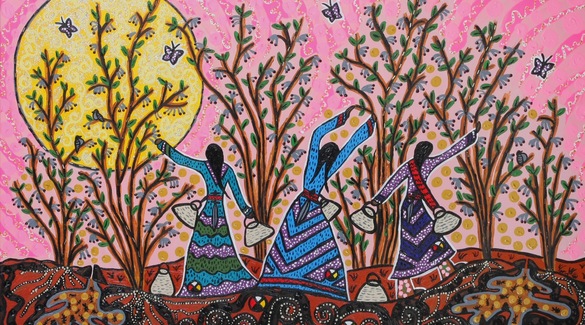 Picking Saskatoons - by Leah Dorion
Leah Dorion
Leah Marie Dorion was born in 1970 in Nipawin Saskatchewan and grew up in Prince Albert. She counts her Metis heritage as an important influence on her throughout her career, which has included studying Native Studies and Education and working as a teacher, in addition to her artistic practice as a painter, filmmaker, and writer.
Dorion is a self-taught visual artist, and her work combines contemporary styles with traditional art forms, adding beadwork to reproductions of her paintings that explore light, movement, and texture. Dorion's themes include Metis culture and history, spirituality, and the roles of Aboriginal women.
Dorion began painting after experiences with postpartum depression, and the themes she explores respond to her desire for healing: "I started to use painting as a way to heal and bring beauty into my not-so-beautiful life. That brought me back into balance. As I was relearning the healing ways of my people, I'd start painting these themes, so my painting became a real expression of my healing journey and my cultural learning."
Dorion's work has been shown in Saskatchewan and Alberta and in numerous posters, calendars, and magazines. She has been involved with numerous documentary video projects as producer, co-producer, director, and script writer, including many associated with the Gabriel Dumont Institute. Her publications include The Giving Tree: A Metis Story about Giving and Receiving (2009), which she wrote and illustrated.
In 2009 and 2011, Dorion participated in the Arts Smarts program at local schools. She has received several awards and grants, including from the Saskatchewan Arts Board and the Canada Council.
Dorion has been involved with several arts organizations, including the Saskatchewan Writers' Guild, CARFAC, the Saskatchewan Arts Board Aboriginal Advisory Committee, and the Canadian Society for Education in the Arts, among others.
Leah Dorion lives in Prince Albert, Saskatchewan, and teaches at the Gabriel Dumont Institute. She was named NAC Artist of the Month in June 2014, and we have an extended interview with her, and artworks available for purchase through Saskatchewan NAC.

Leah Dorion
Born:

1970. Nipawin, SK

Resides:

Prince Albert, SK

Mediums:

Acrylic, Mixed Media, Oil Painting

Website: www.leahdorion.ca
Galleries: ()
Connect With Us