Saskatchewan Artist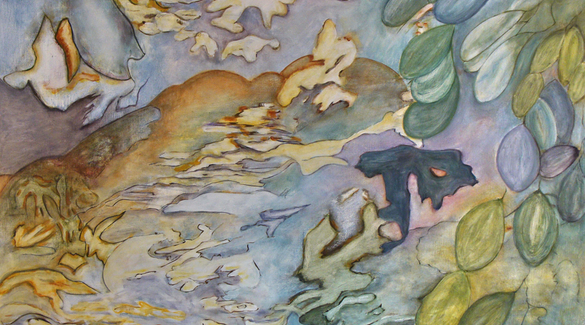 Summer Dreams - 2009 - by Dianne Strilaeff
Dianne Strilaeff
Dianne Strilaeff was born in 1952 in Canora, Saskatchewan. Her interest in art began at an early age, and she was encouraged to embrace any type of artistic pursuit. Strilaeff has studied art at numerous institutions, including Alberta's Harcourt House (Edmonton, 2000-2002), the University of Alberta (Edmonton, 2002-2005), the University of Regina (2007-2010), the Michelle Cassou Awakening Creativity Workshop in San Francisco (2008), the Emma Lake Residential Painting Retreat (2007) and Regina's Neil Balkwill Civic Arts Centre (2005-2007). Strilaeff also took part in a 2011 painting workshop with George Glenn.

Strilaeff's childhood on the prairies has been a profound influence on her work and on her creative interest. In describing her art – which incorporates a variety of tools and media including oils, acrylics, and inks – Strilaeff says, "My work is abstract but not non-figurative. There is, and always has been, some reference to the real world....I like my art to evoke feelings of curiosity, ambiguity and intrigue. It gives me immense pleasure when the viewer sees something in my art, or feels an emotion that I had not seen or felt myself."

Strilaeff's work can be found in several corporate and private collections. She exhibits frequently, especially in Regina, and has participated in The Works Arts and Design Festival (Edmonton).

Dianne Strilaeff lives in Regina, Saskatchewan. She has served as vice-president of the Aurora Art Guild and is currently vice-president of Common Weal Community Arts.