Artist of the Month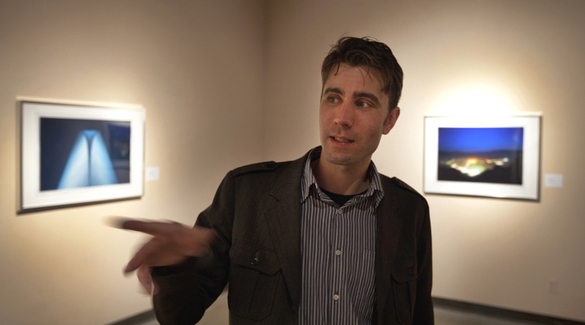 Kris Grunert at As Above So Below, Godfrey Dean Art Gallery, March 2012
Kristopher Grunert
For our April 2012 Featured Artist, Saskatchewan NAC is pleased to feature photographer Kristopher Grunert, who in 2011 returned from Vancouver to live on the family farm near Yorkton, Saskatchewan.
As revealed in the interview below, on the surface it seems that Kris Grunert turned to photography on a whim, but also that this was strangely pre-destined. And now from his home base in Yorkton, Kris travels the world for clients, specializing in Architectural and Industrial photography, while his personal work tends to explore the night, both urban and rural.
But the line is blurred between Kris' commercial work and his own personal fine art photography, as evidenced by his exhibition which runs until April 13th 2012 at the Godfrey Dean Art Gallery, in Yorkton. Entitled "As Above, So Below," this gallery show features Kris' architecture photography alongside his images of the mining industry, to evoke how the world's glittering towers are constructed from the earth's raw materials.
Whether commercial or personal, Kris Grunert's photography employs long exposures in existing light to reveal surprising textures and moods, to show us the light as we've never seen it before.
NACmarket: Kristopher Grunert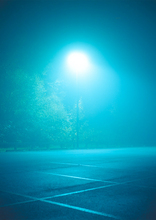 Assembly Point 2
limited edition photograph by Kris Grunert
$65.00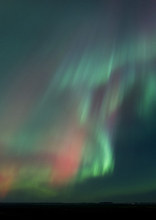 Aurora 1
limited edition photograph by Kris Grunert
$750.00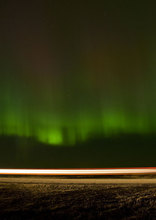 Aurora 2
limited edition photograph by Kris Grunert
$750.00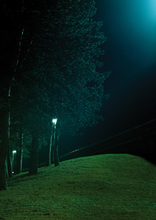 distance 1
limited edition photograph by Kris Grunert
$65.00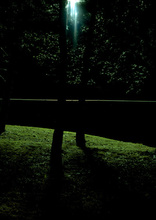 distance 2
limited edition photograph by Kris Grunert
$65.00
distance 3
limited edition photograph by Kris Grunert
$65.00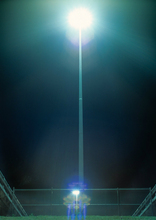 distance 4
limited edition photograph by Kris Grunert
$65.00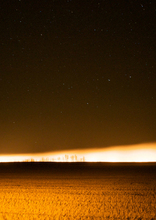 Prairie Fire
limited edition photograph by Kris Grunert
$750.00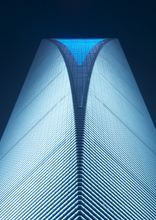 Shanghai World Financial Centre
limited edition photograph by Kris Grunert
$750.00
Interview
How did you come to be a photographer?
It was actually a subconscious decision.
In high school I was pretty much obsessed with skateboarding to the point where I thought I could finish high school early and move to Vancouver so that I could skateboard all year long. That didn't happen.
After graduation I worked at Canadian Tire to save the necessary money to make the move, and after 6 months I gave my notice. Shortly after, one of the managers asked me why I was moving to Vancouver. I really didn't want to say that I was going there to skateboard so I took a few seconds and then it just came out. "I'm going to take a photography course and become a photographer." She was pleasantly surprised and wished me the best in my endeavors. This is really the first time I thought about it. I did take a photography course in high school that I really enjoyed, but it wasn't enough to take my interest from my board. My words quickly faded to the back of my mind.
I moved to Vancouver and rode my skateboard all year while selling china patterns and cookware at Eatons — it was clear I wasn't fulfilling my destiny. At that point I had no idea what I should be doing but was open to anything. I went to the Vancouver Public Library and found an encyclopedia of occupations. It took a couple hours of flipping pages before I got to the Ps and noticed Photographer. A light bulb when off - "Photographer, oh yeah I am supposed to be a photographer." The next day I drove around to all of the colleges in Vancouver looking for a photography program. I found the Emily Carr Art Institute and Langara College. Because the program at Langara was much more focused on photography, I chose it. The timing was perfect to get my application in to the upcoming semester. It's been photography ever since.
How would you describe your new body of work?
For me it is very clear. My goal is simply to capture and communicate the deep feeling of fascination and appreciation I feel when witnessing the architectural and industrial scenes that I visit. I am amazed by our Earth, the resources it offers, our process for extracting and refining its minerals. I am amazed by the structures we build with those raw materials.
Architecture has the ability to hold great amounts of energy. I've been brought close to tears by masters like Arthur Erickson and I.M. Pei. When you walk into a truly great building you will get goose bumps. Some structures attract me more than others, for me they are assembly points. I think about the materials and the energy it took to extract, design and construct. With these new photographs I strive to capture the energy spent through these efforts. These great structures provide a source of inspiration that opens me up to creativity and multiplies.
How would you describe your early work and the progression from there to where you are now?
My early work is about the light that exists within darkness. Sodium vapor and mercury halide. I was developing an appreciation and connection to artificial light. Night is traditionally a time of rest and rejuvenation, it is also a time for dreaming and for growth. The work is provoked by an observation of urban spaces that appear isolated and empty despite traces of human presence. The intention was to document and reinterpret conventional perceptions of these spaces, making the ordinary appear extraordinary and blurring the lines between reality and fiction.
This work has evolved from urban spaces to include large scale industrial and architectural subjects.
What have you found to be the best and the worst parts of being a photographer?
The best and the worst part of being a photographer is the freedom that comes with it. Freedom always sounds like a great thing, but for artists it can be paralyzing. Without restraints it's difficult to know what to do or what direction to move in. There have definitely been times when I wished I was a truck driver or a courier because they always know where they are going next.
How did you start working in architectural photography and night/low-light photography?
After graduating from college I was hired by Rob Melnychuk as his full-time assistant. Rob was a very busy architectural photographer who I learned a great deal from. That said, it was a bit exhausting working 6 days a week. The only time I had to take my own photographs was at night. I started to explore the Vancouver port and other industrial areas. That's when I fell in love with the colour of the night.
Are there different styles/schools of architectural photography, and if so does your work fit into a particular style?
When it comes to architectural photography I find there is two schools -- those who go to great length to light the scene and those who use existing light. I use existing light.
How did you start specializing in photography in the mining industry?
The last assignment in first year college was an industrial picture story. A friend brought in a Finning International annual report to class. Finning sells and services all of the Caterpillar equipment. It was filled with beautiful black & white photographs of huge equipment and the people who operate them. This is when I realized there was such a thing as an industrial photographer and I knew this is what I wanted to do. A few years later I got the Finning contract. That led to other commissions. There are a lot of mining companies based in Vancouver so the majority of the industrial work was resource based.
What about the mining industry has interested you?
Well it wasn't until a couple of years ago when a mining employee asked me what the first photograph I ever took was. I could hardly believe it when I recalled it. When I was in grade 7 my parents took me on a road trip to South Dakota. We stopped at a town, I don't recall it's name but it was quite amazing because on the edge of town there was a view point overlooking a large open pit mine. Wow, I was amazed by the scale of the operation. I asked my father if I could take a picture and that was it. I'm pretty sure this was my first picture. Crazy, here I am 20 years later traveling around the world photographing mines. I love it. I'm interested in learning where things come from and the complex processes we use to extract the mineral and refine it into a raw material.
How has living in the Yorkton area (and spending time away from Yorkton) shaped you as a photographer?
I always credit the prairie landscape for developing the way that I see. The endless roads and vast horizons developed my spatial awareness and the open skies cultivated my curiosity and creativity.
Growing up on my family's farm in rural Saskatchewan allowed me to gain an understanding of our impact on the land and how to work within the earth's cycles. When I moved to the city, I quickly became fascinated with the manmade landscape. The contrast between both of these environments has certainly shaped me as a photographer.
Why have you returned to Yorkton?
My wife, who was born and raised in Vancouver, fell in love with prairie life the first time I brought her home to the family farm in 2002. Seven years later we moved to the farm and into a house that my grandfather had lived in as a child. With my photography taking me all over the world, it is incredibly grounding to return to the place where my family has lived and farmed for over 125 years.
How would you describe the photography and visual arts scene in Yorkton?
It's growing which is very exciting. I just read an article in the local paper about the photography program at the Yorkton Regional High School. It is one of the largest in Saskatchewan. The teacher, Chad McDowell, mentioned that he teaches a quarter of all the students attending the high school. Amazing. Also Don Stein, who is the director at the Godfrey Dean Art Gallery is doing an incredible job curating exhibits at the gallery which is attracting new members all the time. When I was in Vancouver, everyone I met in the film industry knew of Yorkton because of the Yorkton Film Festival. Apparently it is the longest running film festival in North America.
Describe the show at the Godfrey Dean Art Gallery -- what are the themes and styles explored in that show?
I am really excited about this show because it is a culmination of the last six years of my commercial work. For me the line between my commercial and personal work has always been thin, but this show completely eliminates that line. The title of the show is "as above, so below". I simply want to remind the viewer that everything we build or create comes from the earth through the work of man and machine.
Kristopher Grunert
Born:

1978. Yorkton, SK

Resides:

Yorkton, SK

Genre:

Cityscape, Landscape, Work

Mediums:

Photography
Past Artists of the Month
Connect With Us