Artist of the Month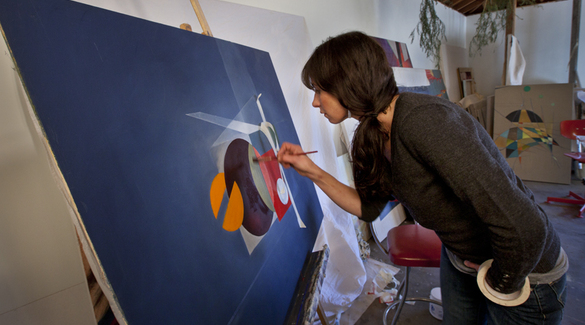 Marlessa Wesolowski in her Saskatoon studio, October 2012
Marlessa Wesolowski
Saskatchewan NAC is pleased to feature Saskatoon painter Marlessa Wesolowski as our November 2012 Featured Artist. Marlessa works in acrylic and oil painting, and video.
Since 2005 Marlessa has been the Resident Artist at St. Paul's Hospital in Saskatoon, where she is developing innovative approaches to working with patients, caregivers and healthcare professionals in the healing potential of art.
Marlessa has extensive experience and training in the use of the arts in health care, and since 2011 she has been enrolled in the Bachelor of Fine Arts program at the University of Saskatchewan.
Generally, Marlessa works in two distinct styles of painting: Constructivism and Impressionism. Her work has been exhibited in solo and group exhibitions at Image 54 Art Gallery (Calgary), Ukrainian Museum (Saskatoon), and Artfirm Gallery (Calgary), among others, and is part of several private and public collections, including the Canadiana Fund for Official Residences in Ottawa.
Interview
How did you come to be an artist?
I definitely feel like I was born an artist; I think we are all born with creative potential. I feel true to my nature when I cultivate a pure and innocent curiosity of the world and express it, no matter what medium. It's a sense of freedom. For me, painting is one avenue to which I can articulate this freedom.
How would you describe your artwork?

My art is a means of expressing myself in ways I couldn't otherwise. I get to say things through my art that I can't give justice to in other ways: It is a visual journal of my purist understandings of a life philosophy. My geometric abstraction is the breakdown of the obvious reality, environment, and illusion allowing for a non-objective form that is concerned primarily with qualities of colour, shape, and line that are applied systematically and expressively. This of course allows for individual interpretation. It is a spiritual, intuitive endeavour of assimilating intangible understandings and concepts onto canvas.
What artists and others have influenced you?

Wassily Kandinsky, Julie Mehretu, B.C. Binning, Maya Deren, Carl Gustav Jung, my partner and family, and those I interact with at St Paul's Hospital and in the community.
Tell us about the work you do at St. Paul's Hospital, and how this has influenced your own artwork.

For the past seven years I've worked as Artist in Residence of the Healing Arts Program at St. Paul's Hospital. As Artist in Residence, I facilitate advanced approaches to working with patients, the community, and healthcare professionals with the holistic healing potential that the arts can provide. My primary role is to create a safe space for one's narrative to be expressed in any way, shape or form artistically. This position has given me the opportunity to observe first-hand how creative expression contributes to the spiritual, emotional, and mental elements of human health. The culture that surrounds art is not the same as healthcare. Part of my role is to integrate the arts into a creative culture at the hospital by building relationships within and external to St. Paul's with the use of creative expression. Being an advocate for the field of arts in health care is in itself inspiring. Being with people in real moments of their lives has informed my understanding of humanity, and my artistic practice. I am appreciative of the fact that painting has been one of the means for capturing some of the compassion surrounding suffering and hope, recovery and loss.
How did you start creating the abstract and geometric paintings in your particular style?

My view of the world changed, literally, on a winter day in 2004, when I was walking along the river and my perceptions suddenly changed; I felt hopeful and inspired. We all have shifts in our understanding at different times in our lives, whether big or small; universal triggers that contribute to our growth. In psychology these are called "aha" moments – my new way of interpreting was a response to my new awareness. I went home that day and began painting in line with the use of palette knifes, which transitioned into three-dimensional work with the use of tape. That for me represented an amazing evolution. They are calculated, expressive equations.
Has living in Saskatoon shaped you as an artist?

Isn't it the artist's job to stimulate culture? It seems that this relationship works both ways – the city influences the artist and the artist influences the culture of the city. There is something tangible about living in the city where you were born; deep familiarity. It is empowering on many levels that could not be the case while living elsewhere, and yet, here it also seems determined at times. I have lived in other cities and still enjoy their influence, yet I have always found myself back in Saskatoon.
What have you found to be the best and the worst parts of being an artist?
Vulnerability and freedom. That my work is a visual journal of my experience in life, allowing it to become open to interpretation and discussion creates this sense of disclosure at a level that is sometimes uncomfortable. I have had to overcome this feeling, but at the same time I like or rather need constructive criticism. I love that in being an artist you have a freedom to offer interpretation of your voice through the creative process, while potentially contributing to individual and cultural growth.
I am grateful that I can use my creativity as a means of caring for others through my work at St. Paul's Hospital. I am building awareness of the arts in health while assisting in redefining the potential contribution artists and the arts can provide in health care.
What are your own expectations for your work and your career: your goals and your ideas of what lies ahead?
I definitely plan to continue with my practice. Currently, I'm working on a new body of work that takes on a new direction in technical terms but still focuses on the intangible experience. I am also a community artist and in that regard hope to influence culture and social change in a meaningful way. I hope to encourage by example while helping individuals and organizations to realize pathways to tap into their innate creative potentials.
Marlessa Wesolowski
Born:

1971. Saskatoon, SK

Resides:

Saskatoon, SK

Genre:

Abstract, Fantasy, Landscape

Mediums:

Acrylic, Oil Painting
Past Artists of the Month
Connect With Us