Artist of the Month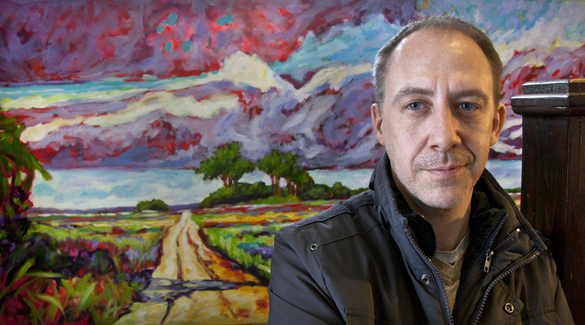 Chris Wikman
Chris Wikman
Saskatchewan NAC is very pleased to feature Chris Wikman as a NAC Artist of the Month!
Chris was born in Regina, Saskatchewan, in 1973. While growing up and watching his father make pottery and pursue other interests in arts, Chris became fascinated with the process of art making. He started painting in 1995 in his spare time, and in 2005 he transitioned to being a full time painter.

While being a stay at home single father of five adopted children, Wikman works out of his home (which was formerly a church) in Indian Head, Saskatchewan.

Wikman is a self taught painter whose main focus is on landscape and portraiture, working in both acrylic and oils. His work is influenced by The Fauvists, Vincent Van Gogh, The Group of Seven and Canadian contemporaries such as Greg Hardy.

Wikman has had several solo shows, such as at the PaSiG Designs Art Gallery in Brandon, Manitoba, and at Gallery Lacosse, in Winnipeg, Manitoba. His work is in both private and corporate collections throughout Canada.

Below are some examples of Chris' work available for purchase through our NACmarket, and an interview with Chris from March 2014.
NACmarket: Chris Wikman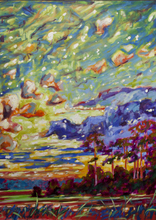 Fields of Windsor Hill
by Chris Wikman
$1450.00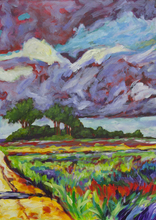 Last Road Travelled
by Chris Wikman
$3250.00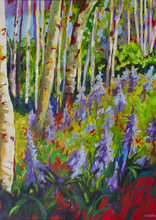 Lupines
by Chris Wikman
$1100.00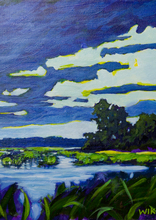 Silent Watch
by Chris Wikman
$195.00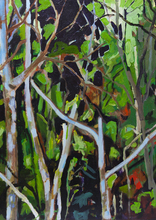 Windsor Hill #1
by Chris Wikman
$720.00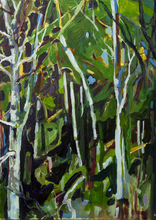 Windsor Hill #2
by Chris Wikman
$720.00
Interview
How did you come to be an artist?

I believe that, as human beings, we are designed to be creative and inventive. At our very core, these are essential qualities of our existence. While growing up, my dad often pursued many art forms, and in fact he became an accomplished potter almost overnight. My fascination with the process of art making, I would attribute to my dad.

As I got older, recognized that I had an inner voice that called me to create art as well; I began to have a profound respect and appreciation for those who, against all the odds, managed to devote their lives to the process of art making, which is an opportunity my dad never had. I feel privileged that I can participate in the process of making art full time, when so many others can't.

For me that is the defining point of when you become an artist. By definition, an artist is someone who is engaged in creating art, a practitioner. You can have an abundance of natural talent, but it is wasted and meaningless if one is not committed to the discipline of making art every day.

How would you describe your artwork?

My work is, at once, both Fauvist and Impressionist.

What artists and others have influenced you?

There are certainly art movements that have influenced my work, for example the Fauvists. Within those movements, I may have singled out a few artists to study but I can't say that any specific artist historically has influenced my work directly.

Picasso said, "Bad artists copy. Good artists steal" My thoughts on that, especially as a self taught painter, is that we always will stumble onto to a piece of art, or a portfolio of an artist, that speaks to us in a particular way. We harness as much information as possible in order to learn, and there is always trace of that, a finger print. At times it may be necessary to flat out copy, in order to learn enough to steal from it to make it your own; and in that sense, I think after enough years of painting, it becomes harder to know where the influence is coming from.

Greg Hardy and RFM McInnis have influenced my work in a particular kind of way. Whenever I am struggling in my own work, or need inspiration I study the work of these two guys to find answers. This is especially true regarding Greg Hardy's work.

For the first ten years of my career I was an abstract painter, until I went to a show and saw Greg's work for the first time. It took my breath away. Suddenly, after seeing his work, everything I loved about painting, the physical act of it, of pushing and manipulating paint, suddenly made more sense to me. I could see it in his paintings. There was something about that work that spoke to me, and I knew from that moment that I would never paint the same again. I knew that I wanted to be a landscape painter. I understood that painting representation was the right vehicle for me rather than what we refer to as abstraction.

The most significant artist who has influenced me is a very close friend of mine, Ross Melanson, who I have adopted as my brother. We started painting together nearly two decades ago and have maintained a disciplined practice of painting together whenever we can. Over a period of days and up to several weeks at a time, we have painted together on a regular basis over the years. It's only been in the last few years that we have begun to recognize how unique that painting relationship is. For me our practice of making art together in the same space has been an invaluable source of energy that has aided me in my own practice.

Are there ideas or philosophies that underpin your work?

Though my work is, to an extent, about nature, it is fundamentally about memory. My images of nature almost always emerge from my reflection on experiences I have had in various places I have been with my family and friends.

How did you come be living in Indian Head, and how does living in Indian Head effect your work?

Moving to Indian Head happened on an absolute whim with disregard to everything I was planning at the time. I was planning on moving to Winnipeg and finish my Fine Arts Degree at the University of Manitoba. I had even gone so far as to make arrangements to buy a house there when my house in Regina sold. Just days before I got an offer on my house, I discovered there was a church in Indian Head for sale online. After seeing what was considered the sanctuary (which is now my studio) I was convinced. In less than a month, we moved in and I have had very few regrets.

My studio here is the centre of gravity for me and my 5 adopted children. It's large enough that I can work in there without being distracted by my kids and yet not be entirely removed from them.

Living in Indian Head itself has not affected my work in any sense. Although I live on the main drag, I am fairly removed from the community because I am working in my studio 10-12 hours a day on average. The studio space itself, however, has affected my work profoundly. After working in corners, dark basements, and at the kitchen table, I now have a place large enough and permanent enough that I don't have a sense of being constrained anymore. My studio is octagonal with high walls and a dome ceiling that is nearly 20 feet in the middle. At certain parts of the studio I can walk back nearly 50 feet to look at my work.

My studio space has taught me to move while I paint, to back away from the work every few minutes. I bet you I walk about 5 km a day to get a distance glance at my work. This has translated into how I view and perceive paintings. In the end, my studio space has played an integral part in my development. It has transformed how I see and use colour and how I use brushstrokes to maximize the effect of the painting when I am close to it and far from it. Whether I am working on a small scale painting or a large scale painting, I want it to demand the same sense of intimacy from that distance. I know that this is not typical of how one views or paints artwork. Regardless, it is my ambition to paint works that are equally powerful from 50' away whether they are five feet square or five inches square. I get very excited about what that implies, especially when a small scale painting doesn't deconstruct from 50 feet away and is as demanding as a large scale painting.

What have you found to be the best and the worst parts of being an artist?

I think what is hard about being an artist, if one is seriously disciplined in the practice of art making, is trying to find a balance with every day life. An art practice comes with huge sacrifices that I think the average person does not understand and, if they do, they may question those choices.

In one sense, being an artist is a selfish discipline. I work full time in my studio for ten to twelve hours a day and, when I am not in my studio, I am thinking about my work, and longing to be in the studio. All my time and energy is devoted to it and, financially, it becomes a costly endeavor. Eventually, you get to a level where the goal is to make a living off of your work or, at the very least, to break even in recouping the cost of materials.

However, it is time and energy that you can never recoup. It's easy to say, "Don't waste time watching TV all night when you should be working!" It is not so easy, when you know you need to work, and life is demanding that you participate, or your kids don't understand in that moment, you need to work, rather than watch cartoons with them. I know so many profoundly talented artists who have stopped making art altogether, or wait until they are retired, or their kids have grown up, because these choices and sacrifices are painfully hard to make.

For me, as a single dad with five children having various degrees of special needs, this is the worst part of being an artist. Time and energy is a limited resource, you need a longterm vision and need to make executive decisions on the spot about where your time is to be spent, who gets it, what gets it, and you need to do so without second-guessing yourself, with the hope that those around you will understand.

I guess, as an artist, you have to trust that the sacrifices you make, whether in regard to your studio time or your family time, are the right choices and that they are more meaningful than the sacrifice that will be made. This wisdom, however, is something that is not always apparent and it is often hard to defend, as both an artist and a parent. After all, you are always sacrificing something from the things that you love. It's easy to feel discouraged despite all the personal convictions that tell you otherwise.

What are your own expectations for your work and your career: your goals and your ideas of what lies ahead, both creatively and professionally?

Like all artists, I strive to be better at my craft. The work that I am producing now still feels new to me, despite the fact that I have been working and developing this particular style for a number of years. I don't want to be what I consider a formula painter. I don't want to be painting the same way in 5 years unless it still feels new to me. This is the first time in my development as an artist that I feel confident about what is possible. Twenty years go by quickly and I guess I've finally reached a place as an artist where I recognize that I will never be the best painter, but I have earned my stripes. It is not so easy for my limitations as an artist or insecurities to intimidate me anymore. Coming to that place has renewed my energy and changed how I feel about my work.

This year I have committed myself to being aggressive in finding as much representation across Canada as I can, that I think I can handle, rather than depending solely on private sales. My work is in several places now and I have several other galleries who are willing to take my work. I feel very grateful and fortunate that I have been given the unique privilege in working full time out of my studio, while being a stay at home dad. My hope is that I can continue to work and make a viable living from my art.
Chris Wikman
Born:

1973. Regina, SK

Resides:

Indian Head, SK

Genre:

Landscape, Portrait

Mediums:

Acrylic, Oil Painting
Past Artists of the Month
Connect With Us