Artist of the Month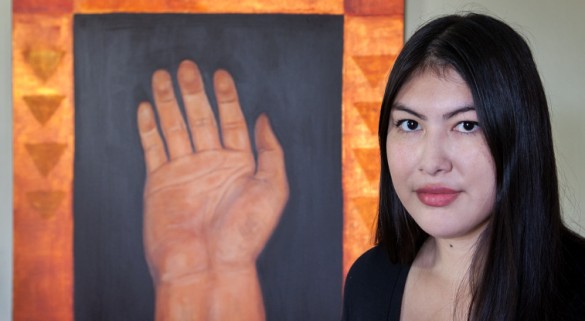 Hillary Ryder
Saskatchewan Network for Art Collecting is very pleased to present Hillary Ryder as a featured artist.
Hillary was born in Regina, Saskatchewan in 1995 and is Assiniboine/Sioux from White Bear First Nation.

She is a self-taught artist, who began painting in 2013 at the age of seventeen.

Hillary's work has been shown at the Sakewewak Artists Collective. at Tatanka Boutique, and at Lemon Drop Salon (Regina), and was included in the 2014 Multi-Faith Visual Arts Saskatchewan touring exhibition.

Also in 2014 she was awarded an artists residency by Sakewewak Artist Collective, and placed 2nd in the 2014 Art Battle Regina.

In 2014 Hillary expanded her artistic endeavours to include fashion design, and has had her designs exhibited in Regina.
Below are some of Hillary's works available for purchase through our NACmarket, and an interview with Hillary from November, 2017.
NACmarket: Hillary Ryder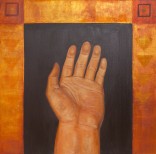 Acceptance
by Hillary Ryder
$975.00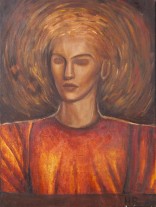 Mind Open
by Hillary Ryder
$495.00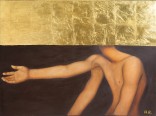 Untitled - arm extended
by Hillary Ryder
$995.00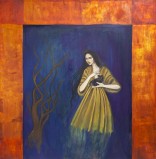 Untitled - holding cat
by Hillary Ryder
$995.00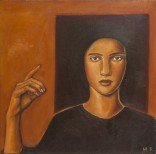 Untitled - portrait with raised hand
by Hillary Ryder
$395.00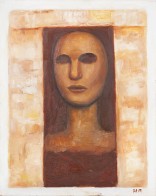 Untitled - portrait without eyes or hair
by Hillary Ryder
$195.00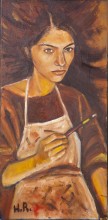 Untitled - self portrait
by Hillary Ryder
$365.00
Interview
How did you come to be an artist?

I was always sketching when I was growing up. When I was 16 I started to experiment with different paints and painted on cardboard until my dad bought me canvas and oil paints when I was 17. That's when I really started to do research and got inspired by many artists. Once I made a few paintings, I sold them at art markets and got some recognition.

How would you describe your artwork, and the techniques you employ in your paintings?

My paintings have earth colours and gold leaf in them. I usually use gold leaf as boarders and I usually paint the gold leaf to give it a more unique texture.

What inspires your art-making?

My own culture inspires me. Assiniboine beadwork is patterned and geometric and I love to infuse that in my paintings.

What artists (and others) have influenced you?

My favourite artist is the Bosnian paintner Mersad Berber. He's a major influence on my work. I randomly stumbled on his artwork online and fell in love with it. My other influences are Gustav Klimt and Edmund Dulac.

Are there some Saskatchewan artists whose work you admire?

I am really inspired by many artists that I've met in Regina, but I would say Andrew Salgado is one of the artists I really admire. His show at the Art Gallery of Regina was really impressive.

What are the worst and the best parts of being an artist?

The best part of being an artist is expressing myself in my artwork and sharing it with everyone. The worst part is trying to get my artwork out there and struggling to make a living off my artwork.
Hillary Ryder
Born:

1995. Regina, SK

Resides:

Regina, SK

Mediums:

Drawing, Oil Painting, Textiles
Past Artists of the Month
Connect With Us