Artist of the Month
Brandi Leah Hofer
Saskatchewan NAC was thrilled to feature Lloydminster painter Brandi Hofer as our inaugural Featured Artist!
Twenty-five year old Brandi Hofer has quickly made a name for herself since graduating in 2008 with a BFA from the Nova Scotia College of Art and Design (Halifax). She has had solo shows at the Red Deer College Learning Gallery and the Anna Leonowen Gallery (Halifax), and spent part of 2011 on an exclusive CAMAC residency in France. Read Brandi's complete NAC biography here.
Below is Brandi's Artist Statement describing her approach to her current series of female portraits, entitled Portrait of a Woman, which will have its live exhibition premiere at the Hague Gallery, in Regina, beginning December 15th (view some photos of the opening on our Facebook page). And these amazing pieces, although intended for exhibition several times throughout the coming year, are in fact available for purchase, now, through Saskatchewan NAC.
And to learn even more about Brandi, lower down on this page is an interview with Brandi about her process and the course of her career. But perhaps the best way to learn about Brandi is to look at her art, on Saskatchewan NAC and in person, at the Hague Gallery beginning December 15, or in your own home if you decide to purchase a piece today.
Each month NAC will feature a different emerging Saskatchewan artist who does not yet have representation with a major commercial gallery — the most exciting young artists in the province and there are so many deserving of our attention — but we can't feel assured that they will have the distinct voice and startling potential of Brandi Hofer.
Brandi Hofer Artist Statement - Portrait of a Woman
My thought process revolves around color, composition and the process of making the art. Art making for me is dependent upon the immediacy of the moment. Female portraits have been the focus of my artistic practice for several years. These have been predominantly self portraits, and I was doing this in order just to paint, to express myself, without having to concentrate on the likeness and getting it right. It was more about colours, the immediacy of the stoke, the patterns, and the different ways I could explore that image. And it always turned out differently.
And this portrait series is an extension of that. I based this series on a sequence of interviews that I did with Canadian women as well as with women I met in France on a month-long CAMAC residency, women from Abu Dhabi, Colombia, Belgium and India. We talked about why these women live where they live, how they got to be there and how their family structures evolved. And I concentrated on their female relationships with friends and family. Then I went on to form a portrait from each individual interview.
As a result, I feel that each portrait reveals the woman's vulnerability, but also represents her in a confident manner. And although my self portraits have been interesting in many ways, in a sense I think these portraits are stronger – they're stronger because of the women.
NACmarket: Brandi Leah Hofer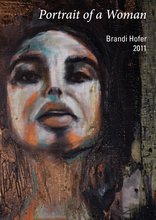 Portrait of a Woman
Signed by artist Brandi Hofer
$7.95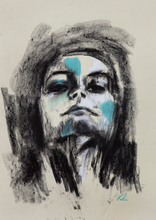 Untitled - aliona solomadina II
$875.00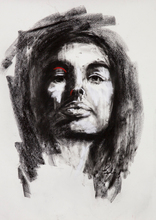 Untitled - kristal gadsby I
$975.00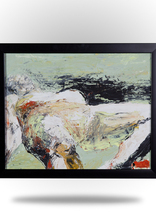 Untitled - Nude
Original painting by Brandi Hofer
$395.00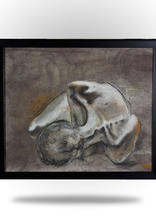 Untitled - Nude
Chalk Pastel by Brandi Hofer
$425.00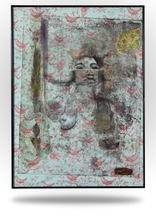 Untitled - self VI
$445.00
Interview
November 5, 2011 - Lloydminster, Saskatchewn

How did you come to be an artist?

I think that I have always been an artist, I was born an artist, and I do believe that everyone is an artist in his or her own right. We all create art at some point early in our childhoods, and at some point around age eleven, some of us stop. The difference with me I would probably have to say is that my parents let me explore my creative interests. They never pushed me into a particular direction because they were thinking of my future career or anything. My parents let me explore and discover on my own, even if it created the biggest messes. My parents praised my creativity in a non-direct manner, and are proud of me. I believe I was born an artist and now I choose to be an artist.

What artists and others have influenced you?

I always enjoyed my time as a student and a resident at Red Deer College in Alberta. I still am friends with many of my former classmates, residents and professors. I believe their support and involvement in my life has shaped many creative paths. And now I have a family of support that I met recently at my residency in Marnay Sur Seine, France, new friends from all over the world.

What inspires you as an artist?

Music has always been a large inspiration and motor for me, as I refer to myself as a bit of an expressionist. Lately travel, culture and the amazing people I meet along the way have largely influenced my practice. I've also had a strong connection to the females I meet, and I have a genuine curiosity about their life's journey.

Artists who I admire most would be Gustav Klimt, Henri Toulouse Lautrec, The Group of Seven, Van Gogh, Degas, Tony Sherman, and Paul Ruiz.

How has living in Lloydminster and spending time away from Lloydminster shaped you as an artist?

There has always been a fine balance to living Lloydminster for me as an artist. On one hand I have time to work on my art and develop my own style of art because of my isolation. On the other hand I feel that I am missing out on some opportunities that a larger centre would provide. It is always a treat to meet artists who are my age when I travel, I don't have that at home because unfortunately there are not as many young artists living in my city. Lloydminster is progressing however, in the last 10 years there has been growing interest and funding in all areas of the arts. I hope that the progression in Lloyd will keep more young artists in the community. There are many great people who work extremely hard in Lloydminster to fund the arts and keep them going in our town, and for that I am thankful. I am also fortunate in the way that my community has stood behind me and supported me.

And, now that I have been traveling through France and Italy I have to say that I am looking forward to the slower life of a small city. The hustle and bustle of the large European cities can be exhausting.

How would you describe your earlier work and the progression from there to where you are now?

Well I would have to say that every work is a progression from one to the other for me. I never do know what an artwork will turn out to look like in the end (I am not one for planning). I hope that I have matured as an artist and that I have created an individual style. I do feel like I have grown the most as an artist in the past year of my life. The change in my work I would say happened because of the projects I have been involved in and the traveling I have done. I have learned that being more proactive and moving around leads to a new experiences and inspirations. I now know how important it is for me as artist to be in different environments. It's good for me and my art to be afraid and unsure of where I am going and what to expect of the place or people. I have had the most incredible, life-altering, knowledge-building experiences in the past year. First, I began my Residency in Red Deer College in February and had a fantastic time. The residency led to me being involved in "The only thing I know for sure is while I am looking for you, you are looking for me," a project by Robin Lambert for the month of July in Montreal. I documented this whole project by blogging at Brandihofer.blogspot.com. And the residency also led me to apply to CAMAC in Marnay Sur Seine France, where I was accepted and from which I just arrived home a few weeks ago.

How did you start creating paintings of women's faces in your particular style?

The inspiration for the women's portraits originally was a slide that my art history professor James Trevelyan showed to our class in 2005. It was the painting done by Gustav Klimt — "Judith". It forever will have impacted the way I feel women can be portrayed in a painting. I connected to this painting as young female artist in her impressionable state. I connected to it with desire and admiration. This painting was like an unattainable goal for me, one could say that I put it on a pedestal.

Do you think of your painting of women's face as portraits of actual individuals?

Yes and no, each portrait is so unique in regards to style, technique and media. The repetition of the female portrait was to represent women as a whole, women coming into themselves, a reflection of life and self-discovery: this is what I wanted the portraits to portray. So it was a repetition of an image but each represented a different moment in time. That is why I refer to myself as somewhat of an expressionist — so much of my work depends on my mood and a moment in time. The purpose of the repetition is that I feel no frustration on perfecting a likeness — repeating it allows me to concentrate more on the use of media and expressing myself. And the way individual female viewers connect to the piece makes it a painting of them, a reflection of their "self".

My most recent body of work is a series of female portraits based on a series of interviews with Canadian women as well as with women I met in France. Some of these women are from Abu Dhabi, Colombia, India, and Belgium. In France I looked into why women live where they live, how they got to be there and their family structures. I also asked about their female relationships with friends, family and how they communicate with one another. I then created portraits from each individual interview. The interviews have turned out to be captivating, as captivating as the visual aspects. I'm combining the audio interviews and presenting them with each individual portrait for a multi-media piece, as a final exhibition. And I believe that each portrait reveals a women's vulnerability but represents her in a confident manner.

What are the best and worst parts of being an artist?

The best part of being an artist is that my work is a release, and somewhat meditative, most of the time. I also enjoy the travel, meeting people, and experiencing new cultures and cities. The worst part of being an artist would have to be the constant struggle for exposure, applying for funding, on top of having to work at a full time job. My other job has supplemented my art and education for the past 7 years. And I have been forced into running a business. I have no education or experience in the art business world, I was educated on the creation of art, and every day I am struggling and learning new things about the business of art. I hope that one day I won't have to worry about supplementing my income and running a business and that I can simply create. Painting is when I am most happy.

What are your own expectations for your work and your career: your goals and your ideas of what lies ahead?

I don't like to think too far in the future, the future feels heavy, out of control and impossible to grasp. My first, nearest goals have to be: being represented and taken on by a gallery, as well as being able to show and sell the two bodies of works that I created in my residencies of 2011. It would be grand if someday I could be successful enough for me to strictly make art and have that be my income. That is only partially in my control, so I try not to put pressure on myself. If I just keep on being proactive as an artist, I think one thing leads to another. One thing is for sure: I'm in it for the long haul.
Brandi Leah Hofer
Born:

1986. Lloydminster, SK

Resides:

Lloydminster, SK

Genre:

Abstract, Figure, Portrait

Mediums:

Encaustic, Oil Painting, Pastels
Past Artists of the Month
Connect With Us