Saskatchewan NAC Auctions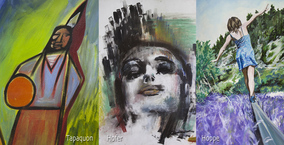 | | |
| --- | --- |
| Date: | Friday May 16, 2014 - Saturday May 31, 2014 |
| | |
| --- | --- |
| Address: | 2153 Cameron Street Map It |
| | |
| --- | --- |
| Location: | Saskatchewan NAC |
| | |
| --- | --- |
| Artists: | Jack Cowin, Michaela Hoppe, Phyllis Godwin, Arthur McKay, Dorothy Martin, Marsha Kennedy, Roger Ing, Victor Cicansky, Grant Leier, Ivan Eyre, Reta Cowley, Don Pentz, Doug Morton, Greg Murdock, Ted Godwin, Adeline Rockett, Michael Bromley, Jerry Jessop, Alfred William Davey, Jeannie Mah, Gerri Ann Siwek, Terry Fenton, David Pugh, Neil Patterson, Amber Dalton, Erica Grimm-Vance, Carl Schlademan, Holly Fay, Marlessa Wesolowski, Margaret Jessop, Eve Barbeau, Michael Lonechild |
This auction is now completed. Lots which did not sell may be available for purchase. Email robin@sknac.ca to enquire about specific lots.
The Saskatchewan Network for Art Collecting presented the first ever Saskatchewan Online Art Auction, with bidding closing May 31st, 2014.
The artworks offered can still be viewed at our new Auction Website. Nearly 300 artworks were on offer.
A live preview event, with over 100 of the arworks on display, was held May 23rd and 24th in Regina, during the Cathedral Village Arts Festival, at Westminster United Church gymnasium.
The auction included sections of artworks from several Saskatchewan charities (including Creative Kids, New Dance Horizons, University of Saskatchewan Art Galleries, Government House Historical Society, and Grandmothers 4 Grandmothers) with 100% of the hammer price going to the charity.
Works by many Saskatchewan artists of historic importance were on offer, including from the Regina Five artists Doug Morton, Ted Godwin and Art McKay, as well as David Pugh, Dorothy Martin, Rita Cowley and Roger Ing, among many others.
Many Saskatchewan First Nations and Metis artists were also represented, including Michael Lonechild, Ken Lonechild, DJ Tapaquon, Henry Beaudry, Richard Dubois, and Simone McLeod.
Other contemporary Saskatchewan artists represented included Jack Cowin, Terry Osborne, Darlene Hay, Marsha Kennedy, Holly Fay, Terry Fenton, Louise Cook, Carl Schlademan, Adeline Rocket, Edie Marshall and June Jacobs, among many others.
Bidding was via NAC's new auction website or on the Invaluable and AuctionZip platforms.