Saskatchewan NAC Auctions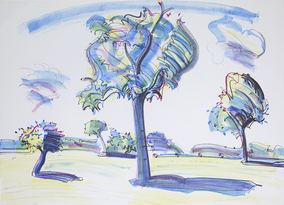 | | |
| --- | --- |
| Date: | Friday November 7, 2014 - Saturday November 22, 2014 |
| | |
| --- | --- |
| Location: | Online at Saskatchewan NAC - www.sknac.ca |
| | |
| --- | --- |
| Artists: | Donovan Chester, Hans Herold, Jack Cowin, Don McVeigh, Dorothy Martin, Maria Gakovic, Roger Ing, Russell Yuristy, Grant Leier, Illingworth Kerr, Jack Sures, Doug Morton, Kenneth Lochhead, Sharon Eisbrenner, Adeline Rockett, Michael Bromley, Lloyd Dubois, Eltje Degenhart, Alfred William Davey, Nola Harrington, Susan Rankin, Cecil E. James, Ingeborg Mohr, Lorna Russell, Patricia Shiplett, Lorenzo Dupuis, Amber Dalton, Margaret Jessop, Jane Kerr, Sylvia Kowalewski, Eve Barbeau, Henry Beaudry, Michael Lonechild, Bonnie McBride |
Saskatchewan Network for Art Collecting hosts the Saskatchewan Affordable Art Auction, an online auction ending November 22nd -- and all items have reserve prices under $500.

Bidding on this auction is available through the Saskatchewan NAC DEDICATED AUCTION SITE and fully accessible for buyers worldwide through both the Invaluable and AuctionZip platforms.

The auction contains consigned artworks from art collectors and from several charities, including Creative Kids Saskatchewan, Regina Symphony Orchestra, Grandmothers 4 Grandmothers, and University of Saskatchewan Art Collection.

249 artworks are on offer through this auction, including include artworks by Ken Lochhead, Jack Cowin, Dorothy Martin, Hans Herold, Roger Ing, Michael Lonechild, Simone McLeod, Jack Sures, Russell Yuristy and many more.

To learn more about the auction or individual pieces, please contact robin@sknac.ca or call 306-569-9102, or register to bid at our dedicated auction site.