Saskatchewan NAC Auctions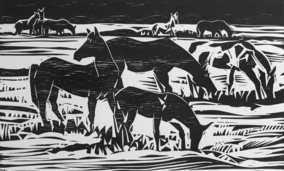 | | |
| --- | --- |
| Date: | Sunday October 22, 2017 - Tuesday November 7, 2017 |
| | |
| --- | --- |
| Location: | Online at Saskatchewan NAC - www.sknac.ca |
| | |
| --- | --- |
| Artists: | Jack Cowin, Harvey McInnes, Allen Sapp, Illingworth Kerr, William McCargar, Jane Zednik, Iris Hauser, Mary Filer, Michael Lonechild, Levine (Flexie) Flexhaug, John Lonechild |
Saskatchewan Network for Art Collecting is hosting a unique auction -- Horses and More Online Art Auction includes a wide range of Saskatchewan and Canadian art works featuring equestrian, ranch and wildlife scenes.

Online bidding starts October 22nd and closes November 7th via the Saskatchewan NAC DEDICATED AUCTION SITE and the Invaluable platform.
Over 200 artworks are on offer, including pieces by Allen Sapp, Jack Cowin, Illingworth Kerr, William McCargar, Levine Flexhaug (Flexie), and original paintings by ALL FOUR of the Lonechild brothers (Michael, Ken, John and Ivan), as well as many others.
A LIVE PREVIEW of approximately 100 of the artworks will be held at the Regina Seniors Centre Elphinstone Loccation (next to Neil Balkwill Centre), Sunday November 1st, noon - 6:00 pm.

Pictured above is the linocut "Wintering Out" by Illingworth Kerr.