Saskatchewan NAC Auctions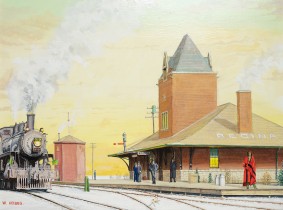 | | |
| --- | --- |
| Date: | Thursday September 22, 2022 - Sunday October 16, 2022 |
| | |
| --- | --- |
| Address: | 2241 Smith Street Map It |
| | |
| --- | --- |
| Location: | Online at Saskatchewan NAC - www.sknac.ca |
Saskatchewan Network for Art Collecting will be hosting the online art auction Saskatchewan and Canadian Art from September 22 to October 16.
The auction is offered via our DEDICATED AUCTION WEBSITE and the INVALUABLE auction platform.

Artworks by Hans Herold, Wilf Perreault, Jack Sures, John Lonechild, George Buytendorp, Sanford Fisher, Margaret Jessop, Bob Millard, Brandi Hofer, David Alexander, Ladd Fogarty, Kathy Bradshaw, Ruth Pawson, Donovan Chester, Dorothy Martin, Ann Harbuz, Dmytro Stryjek, Carl Beam and many more.

For more information contact Saskatchewan Network for Art Collecting at 306-569-9102 or robin@sknac.ca.
Pictured above is "Regina Canadian Pacific Railway Station" by William Hobbs.
Pictured below is "Untitled - Loon with Young" by John Lonechild.