Saskatchewan Art Events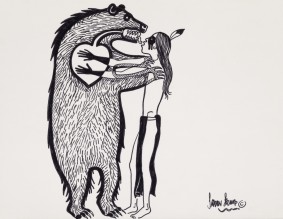 | | |
| --- | --- |
| Date: | Saturday March 3, 2018 |
| | |
| --- | --- |
| Address: | 3475 Albert Street Map It |
| | |
| --- | --- |
| Location: | Mackenzie Art Gallery |
Opening reception for the exhibition Mixing Stars and Sand - The Art and Legacy of Sarain Stump.
Saturday, March 3rd, 3:00 pm, at the MacKenzie Art Gallery (Public Tour of the Exhibition with curators at 3:00, Public Reception at 4:00).
Mixing Stars & Sand: The Art and Legacy of Sarain Stump is a multi-faceted project that makes a major contribution to the art history of the Canadian prairies. It focuses on the art and legacy of Sarain Stump (1945 – 1974), Italian-born Plains Cree autodidact and polymath artist, writer, musician, actor and educator. He was hugely influential in Saskatchewan and internationally, particularly from 1970 to 1974, but has been largely overlooked by the mainstream art world.

Propelled by the spirit of the times, including the activism of the American Indian Movement, Red Power, and the influence of late-sixties youth culture, in a few short years Stump was instrumental in a renaissance of Indigenous art and artists in the region.

Co-curated by Gerald McMaster and Anthony Kiendl, the exhibition will feature a new, commissioned video installation by Edward Poitras; over two hundred works by Stump in a variety of media, documentation, and ephemera, including the un-edited manuscript for a new book of image-poems never before seen in public.
Learn more at the MacKenzie Art Gallery website.