Saskatchewan Art Events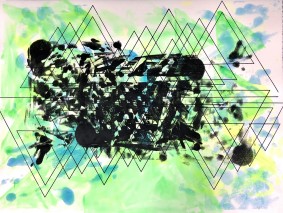 | | |
| --- | --- |
| Date: | Friday May 17, 2019 |
| | |
| --- | --- |
| Address: | 1843 Hamilton Street Map It |
| | |
| --- | --- |
| Location: | Creative City Centre |
Reception for Reduct, featuring new monoprints by Em Brownridge and Edith Skeard.

This exhibition will explore the act of mark-making as a way of renewing one's love for their artistic medium. In this case Brownridge and Skeard explore monoprinting as a means of finding the joy in the press and the process. Finding the desire to continue in one's artistic practice by boiling it down to its simplest elements. Skeard and Brownridge will pair together to explore living in Saskatchewan, working in fine arts, and how to find balance between art's admin and a healthy practice.
Reception - Friday May 17, 5:00 - 7:00 pm, at the Hague Gallery, Creative City Centre, in Regina.
Exhibition runs from May 5 - June 7.
Learn more at the event Facebook page