Saskatchewan Art Events
Saskatchewan Craft Council Gallery
/
813 Broadway Avenue
Saskatoon
Saturday January 25, 2020
Artist Talk and Reception for the exhibiton The Flower People, featuring a collection of stories by Regina artist Melanie Monique Rose, using blankets as canvas for her felted flower arrangements. At...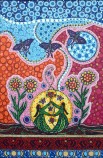 Dunlop Art Gallery Sherwood Village Branch
/
6121 Rochdale Boulevard
Regina
Wednesday February 5, 2020
Reception and discussion for Thirteen Moons, an exhibition of paintings by Saskatchewan Metis artist Leah Marie Dorion. Wednesday, February 5, 7:00 - 9:00 pm. The exhibition runs from February...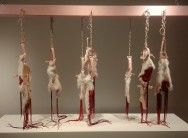 Kenderdine Gallery - U of S
/
Agriculture Building, University of Saskatchewan
Saskatoon
Friday February 7, 2020
Opening reception for Catherine Blackburn with these hands, from this land, an exhibition of new work from Blackburn's residency at the Kenderdine Art Gallery. At the College Art Galleries, University...