Saskatchewan Art Galleries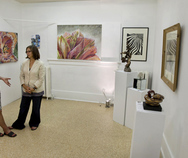 Saskatoon, SK
The Mix Artists' Collective showcases the painting and sculpture work of the collective's members in their character-home gallery behind Knox United Church, near the river...
The Airmen's Barracks, Doc's Town, Kinetic Park
Swift Current, SK
The West Wing Gallery is hosted by Swift Current Public Arts Services during the summer months, in the Airmen's Barracks, Kinetic Park. Gallery hours are Friday, Saturday and Sunday,...