Northern Lights Gallery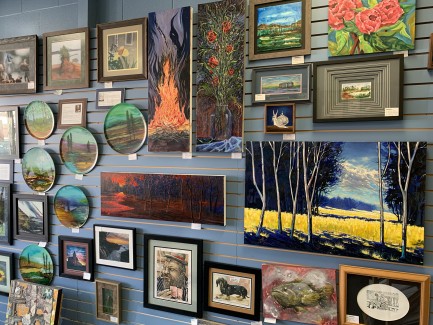 Northern Lights Gallery features work by artists from Northeast Saskatchewan as well as from around the province. Northern Lights Gallery strives to include many artists from the area and to encourage them to share their creativity and ideas with each other and with the general public. As part of this mandate the gallery hosts "The Back Alley Tour" every July.
Custom framing is offered featuring acid free mats and foamboard and many options of glass including UV blocking and non-glare.

Artists represented include: Jim Mason, Beth Bentz, Al Jardine, Monica Whenham-Daschuk, Dennis Smokeyday, Randi Lalonde, Rodney Thomas, Bobbi Clackson-Walker, Sean Simmans, Terry O'Flanagan, Sharon Walker, Annchen Bodenstab, Robert Billing, Uffe Vors, Audra Fawcett , Vladislav Bondarchuk, Sheryl Salen, Transformed Jewelry, Penny Lane Pottery and South 40.