Allen Sapp Gallery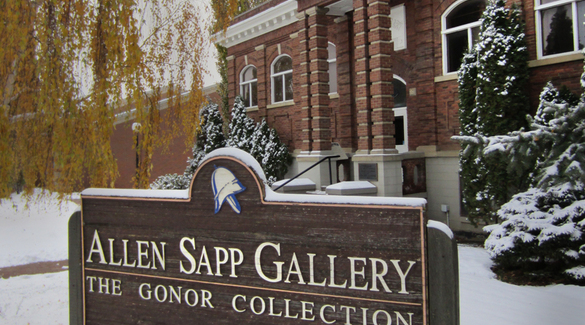 Established in 1989, the Allen Sapp Gallery in North Battleford is dedicated to sharing the work of Cree artist Allen Sapp. The gallery's permanent collection is named the Gonor Collection after Allan Gonor, the patron whose early support of Sapp helped the artist to achieve recognition. Gonor, who passed away in 1985, had wished for a public gallery to be established to house the collection. Today, the Gonor Collection includes many Allen Sapp works (dated from 1956 to 1999) as well as those of other First Nations artists that the Gonor family collected. The collection also includes art from other donors.

The gallery's mission is to share the art and story of Allen Sapp and to acknowledge the role of patron Allan Gonor. Sapp's work is collected, preserved, and interpreted, and special exhibitions of his work are accompanied by other arts programming, with a focus on Aboriginal culture and art. In keeping with its mandate to "carry on the spirit of Allan Gonor" and provide opportunities for artists, the gallery also shows the work of other artists in conjunction with that of Sapp.

The only public art gallery in Canada that is named for a living artist, the Allen Sapp gallery features educational and interpretive programming, including workshops for children and adults, tours, videos, and other opportunities to learn about First Nations culture and art.
Artists Represented
Connect With Us