MacKenzie Art Gallery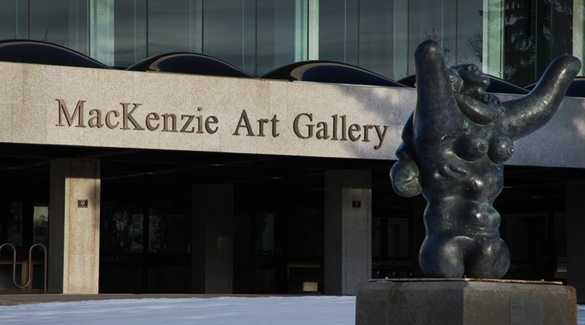 Now Saskatchewan's largest public art gallery, the MacKenzie Art Gallery was established in 1953 after Regina lawyer Norman MacKenzie left much of his vast art collection as well as a portion of his estate to the University of Saskatchewan when he died in 1936.

Then known as the Norman MacKenzie Art Gallery, the university-run gallery was located at the Regina Campus of the University of Saskatchewan, which later became the University of Regina. The gallery enjoyed early success as its first director, Richard Simmins, created public programs and sought media exposure to build the gallery's reputation. By 1957, an addition to the gallery was constructed, paving the way for the next director, Ronald Bloore, to bring more national attention to the gallery through notable exhibitions, including the first exhibition of the Regina Five in 1961.

In 1985, the gallery incorporated as a public, non-profit corporation, and in 1990 it moved to its current location in the T.C. Douglas Building on Albert Street. The new location gave the renamed MacKenzie Art Gallery over 100,000 square feet of space on three levels.

The Mackenzie's exhibition program (developed and expanded by subsequent directors Nancy Dillow, Carol Phillips, Andrew Oko, Kate Davis and Stuart Reid) combines contemporary and historical works from Saskatchewan, Canadian, and international artists. The gallery hosts exhibitions of emerging artists as well as retrospective shows from high-profile artists. Aboriginal art has long been an important focus of the exhibition program; the 1982 exhibition New Work by a New Generation was the first major exhibition of contemporary First Nations art in the country. The gallery's collection of over 3800 works reflects this diversity, with special collections including contemporary Aboriginal art, Saskatchewan folk art, 19th and 20th century European works on paper, and Canadian photography.

The MacKenzie is home to a number of educational and community arts outreach programs that invite participants to experience and learn about the visual arts. These include art education programs in inner city schools and First Nations reserves, and in-gallery public programming for adults and children.
Read more about gallery founder Norman MacKenzie in NAC's feature article.