Saskatchewan Art News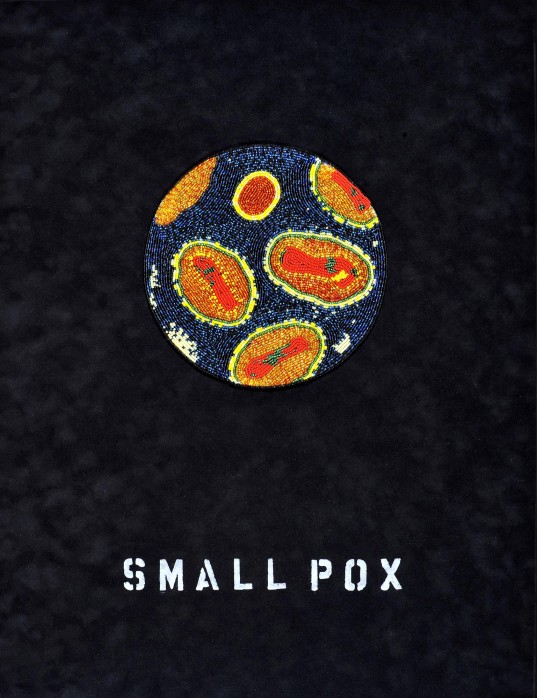 Saskatoon's Ruth Cuthand and Yorkton-born Dana Claxton win Governor General Awards
Eight Canadian artists have been awarded Governor General Awards, including Saskatoon's Ruth Cuthand and Yorkton-born Dana Claxton.
Each will receive $25,000. The annual awards recognize exceptional careers and contributions to the visual arts, media arts and fine craft in Canada.
Ruth Cuthand was born in 1954 in Prince Albert, Saskatchewan, of Plains Cree, Scottish and Irish ancestry. She grew up in Alberta near the Blood Reserve, where at the age of eight she met artist Gerald Tailfeathers and decided that she too wanted to be an artist. Cuthand studied at the University of Regina in 1977 before completing her Bachelor of Fine Arts in Saskatoon at the University of Saskatchewan in 1983. She later pursued post-graduate studies at the University of Montana (1985) before completing her Master of Fine Arts at the University of Saskatchewan.

Cuthand's art addresses themes such colonialism, Aboriginal representation in mainstream media and in Canadian politics, and the history of abuse in residential schools.

Cuthand's first solo show, "S. Ruth Cuthand: The Trace of Ghost Dance," was held in 1990 at Regina's MacKenzie Art Gallery. She has exhibited in many solo and group exhibitions since, including at Saskatoon's Mendel Gallery, Thunder Bay Art Gallery, and AKA Gallery (Saskatoon). Cuthand's work is represented in many collections including the MacKenzie Art Gallery (Regina), Mendel Art Gallery (Saskatoon), Laurentian University Museum and Art Gallery, Department of Indian and Northern Affairs (Ottawa), and the Saskatchewan Arts Board.

Ruth Cuthand has recently taught at the Saskatoon campus of the First Nations University of Canada and at the University of Saskatchewan. She lives in Saskatoon.
Dana Claxton was born in 1959 in Yorkton, Saskatchewan, and grew up in Moose Jaw. She is of Hunkpapa Lakota Sioux ancestry, and her family are descendents of followers of Sitting Bull. Her family reserve is Lakota First Nations-Wood Mountain.

Claxton's uses a variety of media, from photograhy to film to performance, combining contemporary and historical imagery. Her work examines colonialism's impact on Aboriginal history and culture, often using surreal juxtapositions. As Claxton says, "I'm influenced by my own experience as a Lakota woman, a Canadian, a mixed-blood Canadian, somewhat of an academic, and my own relationship to the natural and supernatural world."

Claxton's art has been part of numerous exhibitions, including those at the National Gallery of Canada, Sundance Film Festival, and the Vancouver Art Gallery. Her work is represented in the collections of the National Gallery of Canada, Vancouver Art Gallery, and Winnipeg Art Gallery, among others.

Dana Claxton is currently an Assistant Professor in the Department of Art History, Visual Art and Theory with the University of British Columbia.
Pictured above is Ruth Cuthand's "Smallpox", 2009 beads and acrylic on suedeboard, collection of the MacKenzie Art Gallery.
February 27, 2020