Saskatchewan Art News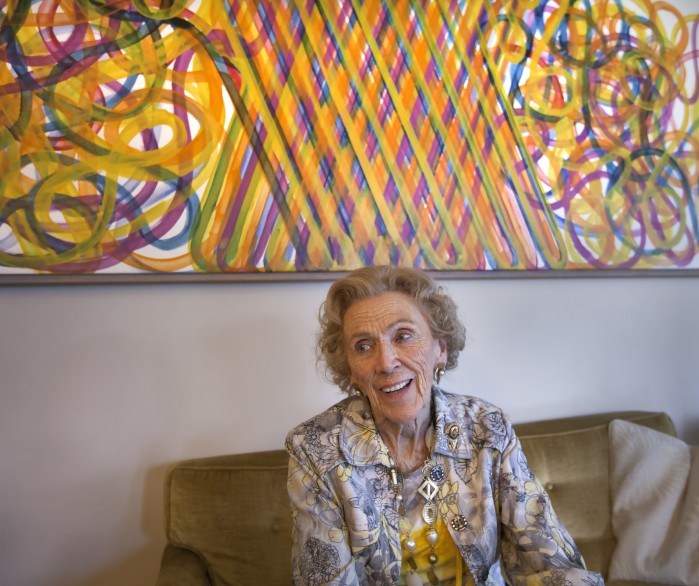 Renowned Philanthropist and Patron of the Arts Jacqueline Shumiatcher has died, at age 97
Jacqueline Shumiatcher has died, in Regina, at age 97.
Jacqui Shumiatcher was a renowned philanthropist and patron of the arts, including Regina's Globe Theatre, the Regina Symphony Orchestra, and, especially, the Mackenzie Art Gallery. In 2014 she donated over 1,300 artworks to the University of Regina (closely associated with the Mackenzie Art Gallery) valued at approximately $3 million.
The artworks were a substantial portion of the collection that Jacqui and her late husband Morris Shumiatcher had built over several decades of collecting Saskatchewan, Canadian and international artwork.
Jacqui Shumiatcher's love for collecting art was matched by her passion for sharing it, and as far back as the 1960s, Jacqui was a docent with the Mackenzie Art Gallery's travelling art program. She'd take Inuit sculptures from her private collection to schools around Regina where students could view and hold the pieces.
Jacqui and Morris (who died in 2004) had a democratic approach to their collecting and many now prominent Saskatchewan painters, who were finding their footing at the time, benefitted from the couple's support. Significant artists like Joe Farfard, Vic Cicansky, Kenneth Lochhead, Art McKay, Ted Godwin, Jack Sures and the whole Regina Clay Movement benefitted from their artist-collector relationship with the Shumiatchers.
In 2015, MacKenzie Art Gallery head curator Timothy Long said that Jacqui and Morris were always looking at who was being excluded, and sought remedies.

"They saw the importance of collecting Inuit art, of collecting First Nations art, of collecting the work of cultures around the world, as part of this broader vision to unite people," Long said.
"There's this quote from Jacqui Shumiatcher from 1963", he added, "in which she says that art is a universal language."
Jacqueline Shumiatcher was awarded the Order of Canada in 2017. She died on February 1st in Regina, Saskatchewan at age 97.
Learn more in our 2015 feature article about Jacqui and Morris Shumiatcher:
- Love at First Site - A Glimpse at the Shumiatchers as Collectors
February 02, 2021