Saskatchewan Art News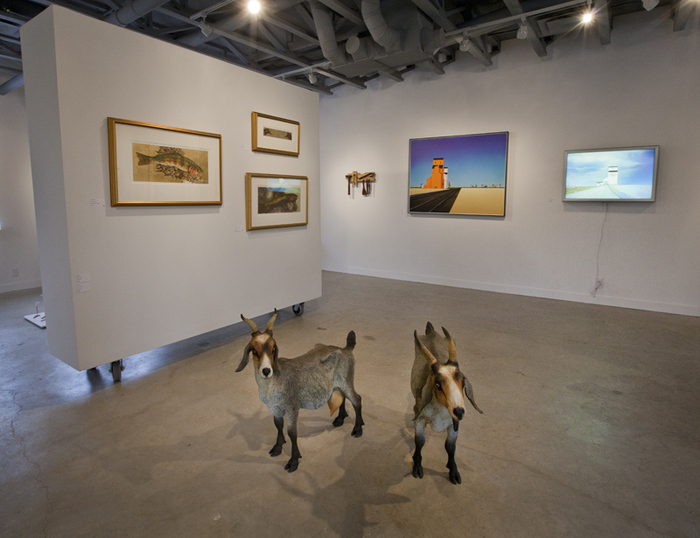 Regina Gallery Opens with Slate of Top Artists
The Slate Fine Art Gallery, in Regina's Heritage neighborhood, opened in April with a remarkable display of contemporary art works by seventeen top Saskatchewan artists.
Artists currently represented by the commercial gallery include Ying-Yueh Chuang, Victor Cicansky, Troy Coulterman, Marc Courtemanche, Jack Cowin, Joe Fafard, Jodi Greenman-Barber, Laura Hosaluk, Michael Hosaluk, Melissa Kuntz, Janet MacPherson, Ward Schell, David Thauberger, Robert Truszkowski and Russell Yuristy.
Gina Fafard and Kimberley Fyfe, who own and operate the 2,000-square-foot gallery, chose to start with the seventeen artists for the quality of work they produce.
"We have a good mix of emerging artists and what you'd call established artists who have been practicing for many years," said Fafard.
"The wonderful thing about the established artists we represent is that they are Saskatchewan artists and they stayed in Saskatchewan despite the popularity they gained nationally and internationally," added Fyfe.
Their emerging artists also exude quality.
"We are looking forward to carrying our younger artists through their career and have them represented here for maybe thirty or forty years," confided Fyfe.
Fafard and Fyfe got acquainted late last year after they both were involved with pop-up shows in Regina: Fyfe had worked on a two-week pop-up show of work by Joe Fafard (Gina's father) in September and Gina Fafard curated a show of multiple artists shortly after.
"We met and talked about how much fun it was and decided to go into business together," said Fyfe, who previously worked at the Mackenzie art gallery.
-- Pictured above is work by Joe Fafard, Jack Cowin and David Thauberger during the April 2013 opening exhibition
-- Article by NAC writer Iryn Tushabe
April 16, 2013