Saskatchewan Art News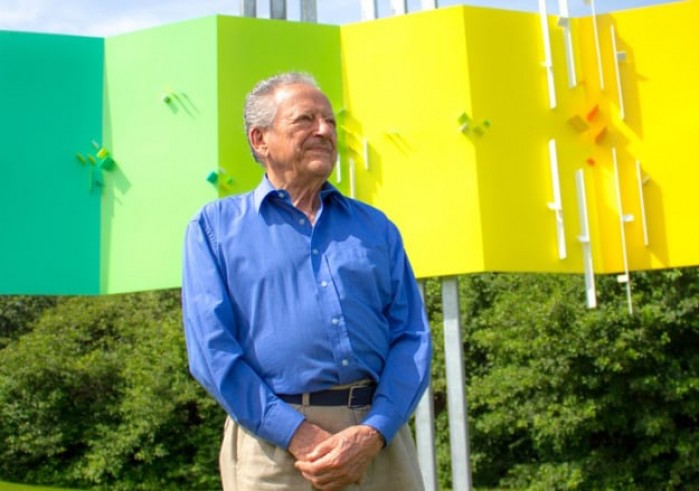 Eli Bornstein Inducted Into Order of Canada
Saskatoon artist Eli Bernstein has been named to the Order of Canada, at a May 8th ceremony at Rideau Hall.

Bornstein was born in 1922 in Milwaukee, Wisconsin. He studied at the Art Institute in Chicago in 1943 before receiving a degree from the Milwaukee State Teachers' College (1945). He taught at the Milwaukee Art Institute (1943-1947) and the University of Wisconsin at Milwaukee (1949).

Bornstein moved to Saskatchewan in 1950 to head the Department of Fine Arts at the University of Saskatchewan. He continued to teach there until 1990, while taking summer breaks to study abroad, including in Paris (in 1951 at the Academie Montmarte of Fernand Leger and in 1952 at the Academie Julian) and at the University of Wisconsin, Madison, where he completed a Master's degree in 1954.

In the late 1950s Bornstein began creating three-dimensional structurist reliefs, gradually incorporating more complex colours, forms, and the use of shadows. These, in addition to his large sculptures, are the works for which he is best known.

In 1960, Bornstein founded an international art journal called The Structurist, which was published through the University of Saskatchewan until 2010.

Since Bornstein's first commission in 1956, a 15-foot aluminum sculpture for the Saskatchewan Teachers' Federation called "Growth Motif," his works have appeared in many public spaces across Canada, including at the International Air Terminal in Winnipeg (1962), the Wascana Centre Authority in Regina (1982), and the Canadian Light Source Building in Saskatoon (2004).

Bornstein's work can be found in the collections of the Canada Council Art Bank (Ottawa), the National Gallery of Canada (Ottawa), Saskatchewan Arts Board (Regina), Walker Art Center (Minneapolis), Museum of Art (Fort Lauderdale, Florida), Mendel Art Gallery (Saskatoon), and Klein (Los Angeles).

Bornstein continues to reside in Saskatoon.
May 09, 2019