New World Dawning
$29.95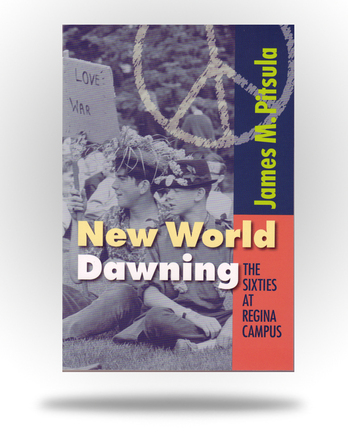 2008, Paperback, 349 pages, written by James Pitsula
Published by the Canadian Plains Research Centre, University of Regina
A lively look at the student movement of the 1960s and its history and impact in Regina.
The "Sixties" is code for rebellious youth, "sex, drugs and rock 'n' roll," hippies, Woodstock, the Vietnam War, women's liberation, Bob Dylan, Kent State, "make love, not war," the Beatles, and Volkswagen buses decorated with the peace symbol. It was a time of tumult and change that centred on the demographic bulge we know as the "baby boom." Sixties youth could be self-indulgent and misguided, but they were rarely dull or complacent. Activists stood up to authority and challenged the status quo. Because of them, freedom and equality became touchstone values, and "hip" is now the dominant cultural mode.
REVIEW: Catherine Gidney, St. Thomas University, Labour/LeTravail
New World Dawning is a readable, accessible introduction to the history of the student movement and the counterculture of the 1960s. It brings alive the events of the period and the sentiments of the student movement and highlights the fundamental shifts occurring within North American society at the time.
ISBN: 9780889772106
NAC Item Number: B0033
Related Products