Our Towns
SOLD OUT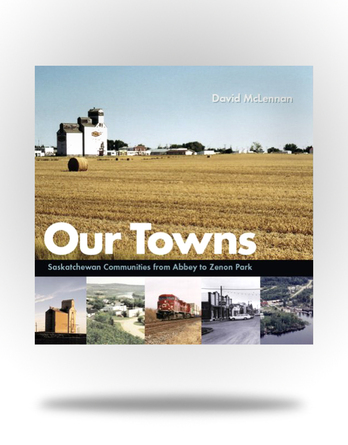 2008, Paperback, 462 pages, written by David McLennan
Published by Canadian Plains Research Centre, University of Regina
Beautiful photographs accompany David McLennan's extensive and informative text exploring the towns of Saskatchewan.
Used - Out of Print - Signed by the Author - Excellent Condition, like new. Inscribed on frontispiece "Best Wishes - David McLennan".
In this lavishly illustrated book, author David McLennan guides us on an alphabetical tour of more than 700 Saskatchewan cities, towns and villages. Our Towns is the result of many years of travel throughout the province. Meticulously researched, and illustrated with stunning, previously unpublished photographs (both historical and contemporary), Our Towns is a truly unique reflection of the province's history and people.
ISBN: 9780889772090
NAC Item Number: B0028
Related Products