Sighting/Citing/Siting
$39.95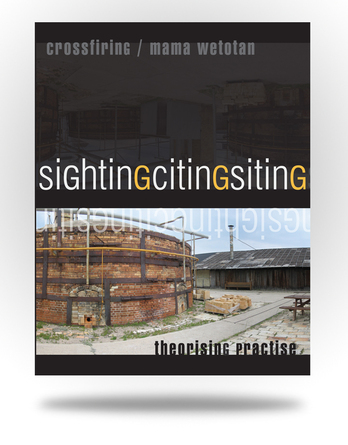 Featuring numerous writers and artists, Sighting/Citing/Siting provides a thorough and visually-engaging examination of a site-specific performance at the Claybank Brick Plant.
Includes a DVD
2009, Paperback, 208 pages, edited by Rory MacDonald and Kathleen Irwin
Published by Canadian Plains Research Centre, University of Regina
Sighting/Citing/Siting is a broad contextualization of an interdisciplinary, cross-cultural performance entitled Crossfiring/Mama Wetotan. Produced by Knowhere Productions Inc. at the Claybank Brick Plant National Historic Site (Saskatchewan, Canada) in 2006, this site-specific event explored the significance of the Dirt Hills to pre-contact aboriginal culture and to the non-aboriginals who have proliferated there since the mid-nineteenth century. The negotiation between practise and theory, in particular the desire to privilege neither, is represented in the book's design; its collection of critical articles, full-colour catalogue, and dvd of artist interviews and performances describe the interaction of a range of site-specific practises focusing on collaboration and interdisciplinarity.

This book is pertinent to those interested in non-conventional performance, site-specific practise, postcolonial history, labour history, cultural geography and eco-tourism—and to all who understand the beauty of the Canadian prairies.
ISBN: 9780889772281
NAC Item Number: B0035
Related Products