Alberta Art and Artists: An Overview
$19.95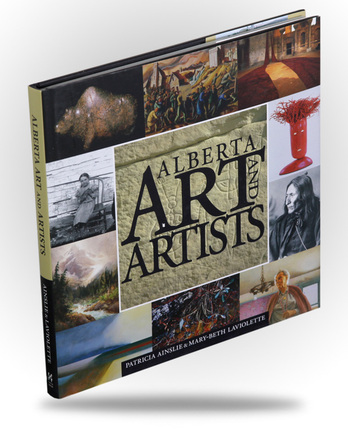 2007, 160 pages, 200 illustrations, artist biographies, index
Published by Fitzhenry & Whiteside, Markham, Ontario
Just as Canada is often overlooked or undervalued within the international art world, the province of Alberta has struggled against being overlooked within the national context, despite its rich art history and vigorous and ever-changing art scene. Alberta Art and Artists, by former vice-president of collections at the Glenbow Museum Patricia Ainslie and art critic and journalist Mary-Beth Laviolette, provides a comprehensive visual record of the historical, modern, and contemporary art scene in Alberta.
Throughout three sections, Ainslie and Laviolette provide introductions to the art they describe, explaining beginnings and development of movements, art schools, sketch clubs, galleries, and artist-run centres; the significance of artists and teachers to those institutions and movements; and the importance of social and political context to all artistic events. Also included in this fantastic volume are the biographies of each of the artists showcased.
Reviews:
"Alberta Art and Artists is the latest in a growing number of books on the topic – and proves, in case there was any doubt, that this province has a vibrant history of creative activity. It will delight art historians and newcomers to the subject alike. . . It is a remarkable contribution to the world of art history, and a welcome addition to our understanding of Alberta art."
-- Alberta Views
Patricia Ainslie lived in Africa, Iran, and England before settling in Alberta in 1977 and becoming a curator at the Glenbow Museum in Calgary. After organizing a variety of exhibitions by artists such as Margaret Shelton, Cecil Buller, Laurence Hyde, H. G. Glyde, and Jack Shadbolt, Ainslie became vice-president of collections at the Glenbow in 1993 and continued to write, maintain the Glenbow's collections, and work on innovative museological projects. She retired in 2006 and now lives in Kelowna, British Columbia.
Mary-Beth Laviolette was born in Edmonton. She completed a degree in journalism at Carleton University in Ottawa, and spent ten years in the province specializing in arts journalism. She covered the visual arts for Arts National on CBC national radio, then returned to Alberta in 1982,where she wrote articles for a variety of newspapers and gallery publications, as well as co-founding and co-editing Artichoke (1989-2005), a visual arts magazine. She published An Alberta Art Chronicle (Altitude Press) in 2005. Laviolette currently lives in Canmore, Alberta.
ISBN: 1894856619
NAC Item Number: B0009
Related Products
Diabolique
Exhibition Catalogue and Essays: war and human conflict
$29.95
Sam Spencer
Retrospective Exhibition Catalogue
$9.95