Building Our Future: A People's Architectural History of Saskatchewan
$19.95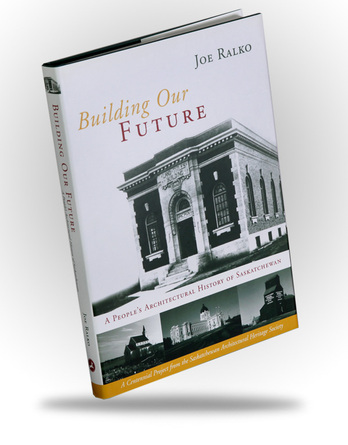 2007, 304 pages
Published by Fitzhenry & Whiteside, Markham, Ontario
The Saskatchewan cultural and historical mosaic is reflected in homes, workplaces, schools, universities and religious buildings. Produced in cooperation with The Saskatchewan Architectural Heritage Society (SAHS), Building Our Future is an historical account that researches not just monuments, but also the history of individuals to provide a unique glimpse into the tightly–woven fabric of prairie society, not just the bricks and mortar of the buildings.
It accurately reflects Saskatchewan's unique growth over 100 years in confederation, providing snapshots of history in rural and urban environments, in business, faith and farming. Building Our Future is the perfect 100th anniversary present for the province of Saskatchewan.
The SAHS, a nonprofit organization, is dedicated to promotion, protection and preservation of Saskatchewan's built heritage. The five affiliated societies in North Battleford, Moose Jaw, Regina, Saskatoon and Yorkton assisted with the technical research on the buildings nominated by individuals and communities.
Reviews:
"Building Our Future: A People's Architectural History of Saskatchewan is a revealing book, writing into the record some quite remarkable buildings–institutional, residential, ecclesiastical and educational."
-- The (Saskatoon) Star Phoenix
"People who grew up in this province are rightly proud of their heritage and their history and 2005 marks our centennial. Building Our Future would make an excellent gift for someone to mark that event."
-- The (Regina) Leader Post
"Author Joe Ralko know's there's more to an old building than its facade. In fact, it's the people behind the facades that became the focus of his book on Saskatchewan's architectural history."
-- The (Moose Jaw) Times Herald
"Author Joe Ralko has faced the daunting task of narrowing down the most fascinating structures in the province to 100. . .those that are most representative of the spirited folks across Saskatchewan. Not only does Ralko write of bricks and mortar, he delves into nooks and crannies and recovers hearfelt anecdotes in his quest to determine how each building characterizes the culture of the people who built it. It all adds up to a testimony of aspirations of our European ascendants, drawn to a harsh land, determined to make their mark."
-- Shaw TV News, Saskatoon
"A number of Saskatchewan's most treasured and revered buildings . . . will be forever preserved in history in the form of a (this) newly-released book."
-- The (Yorkton) News Review
"It provides a snapshot of history from the perspective of those who lived and worked and played from Stanley Mission in northern Saskatchewan to Big Beaver along the U.S. border."
-- The (Weyburn) Review
Joe Ralko was an award–winning correspondent for the Canadian Press who has worked in Saskatchewan for almost 30 years. He brings extensive personal knowledge of Saskatchewan from his career as a journalist and communications consultant. He is also the author of Regina: Ready for the New Millennium. He and his family live in Regina.
ISBN: 0889953082
NAC Item Number: B0010
Related Products