Nokum: Ma Voix et Mon Coeur - par David Bouchard - FRENCH VERSION
$24.95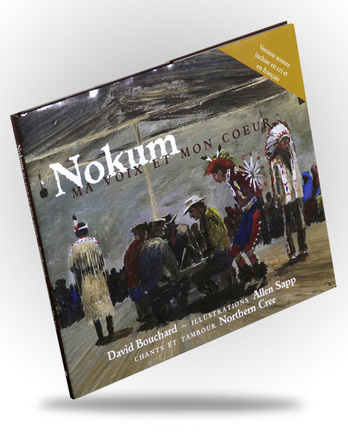 Featuring Saskatchewan Artist(s): Allen Sapp, David Bouchard
2006, 32 pages, illustrated by Allen Sapp
In French and Cree with CD included. Translation and music by Northern Cree
Published by Fitzhenry & Whiteside, Markham, Ontario
Anskohk Aboriginal Literature Festival Winner, Children's Book of the Year 2007
Moonbeam Children's Book Awards, 2007 Bronze Medalist
- Multicultural Picture Book Category
Alberta Children's Book of the Year nominee 2007
Canadian Children's Book Centre Our Choice, 2009
Will you walk with me, Grandmother?
Will you talk with me a while?
I'm finding life confusing
And I'm looking for some answers
To questions all around me
At that school and on the street.
You have always been here for me
Will you help me learn to see?
Nokum: Ma Voix et Mon Coeur is the poetic story of a young aboriginal boy, posing questions to his grandmother, his "Nokum", about the wider world beyond the familiarity of their home and community. Through a series of questions, Nokum guides her grandson towards an understanding of his need to fit into and learn more about this large world beyond the reserve. Nokum offers her grandson a vision of a world he can enter through imagination and reading, while retaining respect for the ways of his people. By the conclusion of the book, the young grandson has learned many new ideas from his grandmother and discovered his own wisdom in dealing with the changes in his life.
Nokum: Ma Voix et Mon Coeur is a delightfully packaged book and audio CD, combining the written text in French and Cree with the mesmerizing voice of author/storyteller extraordinaire David Bouchard. It is illustrated by the hauntingly beautiful artworks of Allan Sapp, Cree elder, Governor General's Award-winner, and Officer of the Order of Canada. The singing and drumming are done by Alberta's Northern Cree, who have been nominated for a Grammy Award (2007) in the 'Native American music album' category.
Nokum: Ma Voix et Mon Coeur is also available in English/Cree text and audio as Nokum Is My Teacher.
This is the first of a series of aboriginal books David Bouchard is developing with Red Deer Press.
Reviews:
"With beautiful, thickly brushed paintings by an award-winning Cree artist, this bilingual picture book breaks with the formula of the wise elder teaching the contemporary kid to respect the old ways. Here, a boy asks Nokum (Grandma) why he has to leave the reservation to go to school and learn to read. . . The art, including close-ups and panoramic scenes of Cree life through seasons and generations, shows the heartfelt bond between the boy and his beloved mentor as well as the richness of Cree life, past and present."
-- Booklist
"David Bouchard is firmly established as one of Canada's finest storytellers, and he further enhances his reputation with this book. . .
Bouchard skillfully captures the sense of disillusionment and irrelevance that many children attach to the task of learning to read. . .
Allen Sapp's oil on canvas illustrations are richly textured and lend much to the lyrical text. Sapp is a Cree Elder, and his exterior winter scenes are especially powerful in capturing the harshness of the northern winter and in reflecting the hardiness required of a People who for centuries have survived in such challenging surroundings. . .
The textual pages are divided into two columns, with the text in one column presented in English and, in the other column, in the Cree language. Even for English-only readers such as me, the presence of the Cree text adds to the appeal, authenticity and educative potential of the book. . .
A bilingual English and Cree audio recording is enclosed. The Compact Disc contains a reading of the story in English, then Cree, to the accompaniment of the aboriginal drumming group, Northern Cree. . . Their participation in this collaboration caps off what represents the fruit of some of Canada's finest creative talent."
Recommended.
-- CM Magazine
"The universal themes of validating education and receiving guidance from elder family members will resonate with elementary school–age children. The authentic Cree voice, artwork, and music, provide a taste of the native culture in a context that unites the concerns of children across time and place. This book will be well-received for the value of its story as well its celebration of the identity of one of North America's First Nations."
-- Foreword Magazine
"Illustrated with Cree artist Allen Sapp's very fine paintings, which beautifully animate an old way of life. . . The dialogue between the grandson and his Nokum is an interestingly enigmatic one, in part because it is unclear whether the boy is summoning up the spirit of his departed Nokum. Does she exist in the flesh or is she a treasured memory? Nokum's responses to her grandson's questions are enigmatic as well; she offers not answers so much as more questions for him to consider."
-- The Globe and Mail
"David Bouchard's Nokum is My Teacher is a stunning picture book."
-- The Star Phoenix (Saskatoon)
David Bouchard has written more than fourteen books for children, including the classic If You're Not from the Prairie and Qu'Appelle. He is a highly popular and successful public speaker who regularly talks to educators, parents and children about books and reading. He has many years of teaching experience to draw from, and he uses that and his own cultural background to build bridges of understanding between the First Nations peoples and the rest of North America. Visit David's web site at www.davidbouchard.com.
Allen Sapp is an Officer of the Order of Canada and a member of the Canadian Academy of Arts. A Cree elder, he was raised by his grandmother on the Red Pheasant reserve in Saskatchewan and now calls North Battleford home. The memory of this tender relationship has spawned in Sapp some of his finest and most sensitive works, bringing to his canvas a sense of affection and love. Visit Allen's web site at www.allensapp.com.
ISBN: 088995383X
NAC Item Number: B0013
Related Products