Saskatchewan: The Luminous Landscape
$12.95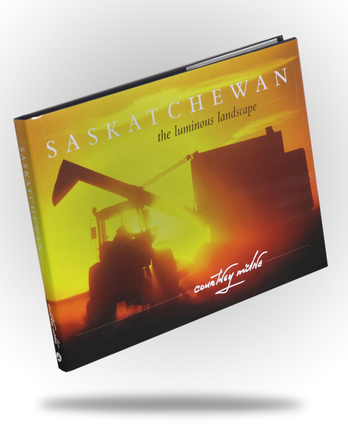 Featuring Saskatchewan Artist(s): Courtney Milne
2005, 144 pages
Published by Fitzhenry & Whiteside, Markham, Ontario
To celebrate Saskatchewan's centenary, internationally renowned master photographer Courtney Milne has returned home to celebrate his first love—Saskatchewan. The breathtaking images in Saskatchewan: The Luminous Landscape pay homage to the beauty of the province's prairies, hills, forests, lakes and skies.
From the Cypress Hills in the southwest to Selwyn Lake and the Crackingstone Peninsula in the far north, Saskatchewan: The Luminous Landscape transports viewers from iconic images of the prairie to the seldom seen vistas of the north. The 225 images—coupled with personal notes, stories and journal entries—reveal why, like all prairie natives, Courtney Milne's world travels always leave him longing for his cherished province. "It comes as no surprise," he notes, 'that we become spoiled by the dazzling displays of light—sunsets, sundogs, harvest moons, northern lights, not to mention thunder clouds, rainbows, hoarfrost, blue spring ditches and fields painted canola–yellow, mid–July green, or ripened gold."
Reviews
"Milne's book is simply splendid. Glorious color, sensitive prose, and marvelous images fill every page."
–Library Journal
"Far more than mere depictions of the land, Milne's pictures evoke its spirit, the mystery that made people kneel there in worship and prayer and awe."
–Canadian Geographic
Courtney Milne was born in Saskatoon, and has been a freelance photographer since 1975, concentrating on landscape and nature. His academic background includes two master's degrees -- in psychology, and in journalism & mass communication. He has written more than 180 illustrated articles for photographic magazines and he has conducted workshops, seminars, and worldwide photographic tours. Courtney has been nominated for the prestigious Governor General's Awards in Visual and Media Arts and was awarded the Gold Medal for Distinction in Canadian Photography, by the National Association for Photographic Art.
Visit Courtney's web site at www.courtneymilne.com
ISBN: 0889953279
NAC Item Number: B0017
Related Products
Human Touch
The Portraiture of Thelma Pepper
$36.95
Kin
Limited edition book signed by Leesa Streifler
$14.95