Portraits of an Era: Aerial Photography of Howdy McPhail
$35.95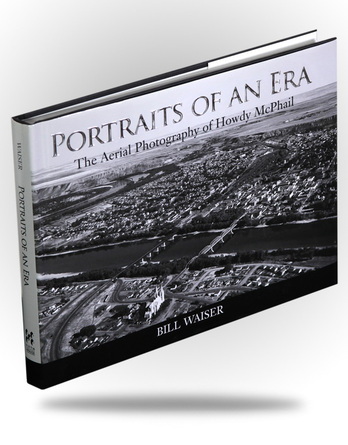 Featuring Saskatchewan Artist(s): Howdy McPhail
2009, 192 pages, 130 duotone photographs
Published by Fitzhenry & Whiteside, Markham, Ontario
An astounding collection of aerial photographs of farms, villages, and communities large and small from Ontario to British Columbia-Thunder Bay to Victoria-in the 1950s and 1960s.
Our price - $35.95 (List price is $39.95)
This book is perfect for the nostalgia and gift market, history and aviation buffs, and those interested in photography. The never before published collection is unique for its immeasurable historic value.
What really distinguishes Howdy's work is the simple artistry of each composition. His aerials are not in any sense generic, or for that matter, sterile. Even though he was both flying the plane and using a handheld camera, his photographs are amazingly sharp. They are also surprisingly detailed, especially given the distance from the subject, and this textual richness provides a window to the material culture of the period. Howdy had a keen sense of the landscape and tried to capture the rhythm and patterns of daily life by including people and their activities in the scenes whenever possible. The pictures are effectively saying that this is their home ground. Nothing delighted Howdy more during his picture outings than spotting individuals waving at him as he flew overhead and pressed the shutter. That moment-that intersection of plane, camera, and subject-can never be duplicated again given the transitory nature of photography.
It's what makes Howdy McPhail's pictures so special, so valuable, but most of all, so reflective of a truly remarkable pilot who took aerial obliques to the level of an art form.
H. D. McPhail, a character in his own right, left an aerial history of land and life in post WWII Canada. His life and photography are presented through the historical lens of historian Bill Waiser.
Bill Waiser has been a member of the department of history at the University of Saskatchewan since 1984. He is the author, coauthor, or co-editor of nine books, including Loyal Till Death: Indians and the North-West Rebellion, which was a 1997 finalist for the Governor General's Literary Award for Nonfiction, andSaskatchewan: A New History, which was named the best book in prairie history in 2005 and awarded the Clio Prize by the Canadian Historical Association.
From 1998 to 2001, Waiser hosted a weekly Saskatchewan history television series, Looking Back - now also a book of the same name. Waiser has served on the council of the Canadian Historical Association and the board of directors of Canada's National History Society.
In 2007 Bill received the honour of election to the Royal Society of Canada.
ISBN: 1897252587
Related Products
Kin
Limited edition book signed by Leesa Streifler
$14.95
The Vaults
Art from the MacKenzie Art Gallery and the U of R Collections
$35.95